Listen to the podcast here: In the port of Amsterdam….
This was yet another journey to Amsterdam. It was one with a simple plan… enjoy doing whatever.
I know Amsterdam like the back of my pocket after having lived there for quite a long time many years ago, which I will surely write about at some stage. Back then, I lived a life of a local, this time we meant it differently. We wanted to do all things touristy and without thinking too much. Just chill.
We booked a hotel in the centre. Looked ok on the pics but never been there before.
I specifically asked for the top floor so that we could have nice city views.
Upon arrival, we were reminded why the top floor is not such a good idea when you plan to party in Amsterdam. Two reasons: the windows may be too small and too high up to allow any city views, that being due to the fact that the top floors were originally designed to be storeges only, and another thing are the stairs. Thousands of extremely steep and narrow steps making your quads scream in pain half way through to the top. And climbing them drunk or stoned is a challenge of a century.
Dutch houses, particularily in Amsterdam along the main grachts (canals) in the centre: Herengracht (Gentlemens' canal), Prinsengracht (Prince's canal), Keizersgracht (Emperor's canal) and Singel (from the Duth word omsingelen meaning "to surround"), are pure masterpieces.
They were built in around 16th and 17th centuries durig the Dutch Golden Age, when The Netherlands celebrated its incredible power that had its strength in the country's impressive flotilla which was used to import and export goods around the globe.
When I spoke of Sinterklaas, I mentioned the colonies once owned by the Dutch, see here:
Thanks to such influences all over the world, they were earning millions. Apparently a small sack of tea could get you a nice house back in the days.
Tropenmuseum, not far from the Zoo, will take you back to the days of the Dutch West Indies times. You will learn there, for example, that it was the Dutch who brought coffee to Brasil as prior to that it was simply unknown there, as well as many many more interesting stories.
Thanks to such thriving business, they were well able to build cities on the lands reclaimed from the sea (polders), on swamps and bogs, using metres long oak poles, which will support these structures for as long as the oxygen does not start messing with the water soaked wood or until the rats and other critters bite into them.
Although, due to the obvious currents and movements of the sea bottom mud, in which they stand, these poles are moving, and now, oldest parts of many cities, including Amsterdam, enjoy the show of the dancing houses.
In fact it's quite scary, as these houses are literally in the process of collapsing and it is only a matter of time that the supporting constructions will no longer be supportive enough.
These days, when old buildings are replaced with the new ones, huge concrete poles are insterted into the water before the first level of concrete is laid out. This can be very well seen from the boat around the port area where new settlements are being built.
When I lived in Amsterdam, I was quite lucky really, because one of the houses in the area I lived in was being rebuilt. I could easily climb the rooftop of the neighboring house and spend hours marveling at this incredible spectacle. A bit of a science fiction movie, to be honest.
In fact there are more things in Holland that are a bit on a science fiction side. For example the way they lay their brick roads with the use of a machine that literally "prints" the ready layout.
Not to mention their newest technologies using recycled plastic for the motorway layouts. It's a complex looking, multilayered, huge patch, that gets attached to another one in a way you'd click your laminate floor boards together.
It is designed in a way so that the water can flow through it, on the inside, after being immediately removed from the surface. When it gets damaged, a patch gets replaced like a stained carpet patch in the office would.
I don't even wanna start on the water engineering projects they are working on since the risks of the water levels rising. Unaimaginable stuff really. But living 3x your height under the sea level obliges.
One of the things we did this time was wandering around and staring at the gallery displays, visiting shops and admiring this wonderful architechture that people usually ignore while there.
But Amsterdam and Holland would never be what it is without them.
It once took long 30 years to dig the canals that we can stroll along now.
And so this time we appreciated doing just that.
In the past I'd be going to the edge of the Red Light District for the best chinese food in town. This time, we decided to take it to the next level and followed a group of Chinese tourists, who acted a bit like a herd of sheep that escaped from the moutainside enclosure and found a meadow with a very green grass.
Green grass, yes, and the meadow was a very low land too, 6.7 metres below the sea level.
Well, we thought we'd see what they were up to and followed them to one of the places with the live sex shows.
Everybody sat down like in a cinema. Drinks were served.
A single lubricant bottle standing lonely at the front of an empty otherwise stage.
Chinese asked for a second round of whiskey. They were slowly getting flushed and sweaty. I was getting stressed looking at them and only hoped the doors were unlocked and it all would not become some nasty orgy or something.
A while later, a very handsome naked couple came out onto the stage. All very ready to play their roles. The group of Chinese dropped their jaws. Not even a minute later they all slowly started to drool.
We were feeling rather unsure now.
In fact we even moved a bit away from the group of the horny Asians and decided to enjoy the show, holding hands and ready to run as soon as something nasty unvailed.
The couple on the stage were doing the type of sex that nobody would ever want, hence no feelings attached and nothing out of the ordinary. In fact it took so long that the poor guys had to use that lubricant all the time. I guess they were far from the start of their working day and nowhere near the end of it yet.
But it was something new for us so we decided it was ok, especially that the orgy did not unveil even though our "neighbours" were near to turning into some nasty animals in between the rows of chairs there.
We, instead went out and into the nearby adult shop, where we browsed through its inventory until we found a big purple dildo. It served us well I have to say later at night, but…. in the morning it would not start, even with the new batteries… So we had no options but to go back and exchange it.
The guy in the shop looked at it from every angle, as if he was trying to find the reasons behind its "illness". But nothing could be found. So he said, Fine, get a different one.
A few moments later, happy with the new toy, we went accross the road to the coffee shop before heading for another adventure.
Amsterdam has forever been known for its multi-culti-ness as well for the easy-going aproach to certain matters, such as sex and soft drugs.
Jaques Brel, a Belgian singer has written this wonderful song, later translated by many, including David Bowie: Dans le port d'Amsterdam (The Port of Amsterdam), in which he covers the matters of prostitution in the olden days port.
In the port of Amsterdam
There's a sailor who sings
Of the dreams that he brings
From the wide-open sea
In the port of Amsterdam
There's a sailor who sleeps
While the river bank weeps
To the old willow tree
In the port of Amsterdam
There's a sailor who dies
Full of beer, full of cries
In a drunken town fight
In the port of Amsterdam
There's a sailor who's born
On a hot muggy morn
By the dawn's early light
In the port of Amsterdam
Where the sailors all meet
There's a sailor who eats
Only fish heads and tails
And he'll show you his teeth
That have rotted too soon
That can haul up the sails
That can swallow the moon
And he yells to the cook
With his arms open wide
"Hey, bring me more fish
Throw it down by my side"
And he wants so to belch
But he's too full to try
So he stands up and laughs
And he zips up his fly
In the port of Amsterdam
You can see sailors dance
Paunches bursting their pants
Grinding women to porch
They've forgotten the tune
That their whiskey voice croaked
Splitting the night
With the roar of their jokes
And they turn and they dance
And they laugh and they lust
Till the rancid sound of the accordion bursts
And then out of the night
With their pride in their pants
And the sluts that they tow
Underneath the street lamps
In the port of Amsterdam
There's a sailor who drinks
And he drinks and he drinks
And he drinks once again
He'll drink to the health
Of the whores of Amsterdam
Who've given their bodies
To a thousand other men
Yeah, they've bargained their virtue
Their goodness all gone
For a few dirty coins
Well, he just can't go on
Throws his nose to the sky
And he aims it up above
And he pisses like I cry
On the unfaithful love
Songwriters: Jacques Roman Brel / Mort Shuman, English version by David Bowie
Dans le port d'Amsterdam
Y a des marins qui chantent
Les rêves qui les hantent
Au large d'Amsterdam
Dans le port d'Amsterdam
Y a des marins qui dorment
Comme des oriflammes
Le long des berges mornes
Dans le port d'Amsterdam
Y a des marins qui meurent
Pleins de bière et de drames
Aux premières lueurs
Mais dans le port d'Amsterdam
Y a des marins qui naissent
Dans la chaleur épaisse
Des langueurs océanes
Dans le port d'Amsterdam
Y a des marins qui mangent
Sur des nappes trop blanches
Des poissons ruisselants
Ils vous montrent des dents
À croquer la fortune
À décroisser la lune
À bouffer des haubans
Et ça sent la morue
Jusque dans le cœur des frites
Que leurs grosses mains invitent
À revenir en plus
Puis se lèvent en riant
Dans un bruit de tempête
Referment leur braguette
Et sortent en rotant
Dans le port d'Amsterdam
Y a des marins qui dansent
En se frottant la panse
Sur la panse des femmes
Et ils tournent et ils dansent
Comme des soleils crachés
Dans le son déchiré
D'un accordéon rance
Ils se tordent le cou
Pour mieux s'entendre rire
Jusqu'à ce que tout à coup
L'accordéon expire
Alors le geste grave
Alors le regard fier
Ils ramènent leur batave
Jusqu'en pleine lumière
Dans le port d'Amsterdam
Y a des marins qui boivent
Et qui boivent et reboivent
Et qui reboivent encore
Ils boivent à la santé
Des putains d'Amsterdam
De Hambourg ou d'ailleurs
Enfin ils boivent aux dames
Qui leur donnent leur joli corps
Qui leur donnent leur vertu
Pour une pièce en or
Et quand ils ont bien bu
Se plantent le nez au ciel
Se mouchent dans les étoiles
Et ils pissent comme je pleure
Sur les femmes infidèles

I have to say that the approach undertaken by the Dutch is not simply an easy-going approach to the matter. What they did was in fact extremely clever. Not only have they legalized the forever-existing-trade which is not vanishing anytime soon from this planet, but they taxed and regulated it, and yet at the same time, ensured better and safer working environment for those in business. As well as minimized the risks that could potentially arise for the both, providers and receivers of the services.
In 2020, during COVID19 quarantine, the Dutch prostitutes had a very difficult six-sex-less-months. You can read about their happy return to work here. Dutch Police was unfortunately not easy on the trade and the hotels and other accommodation providers had to report any suspitious and repeated guests. Now they have all the necessary stickers on the walls and wash their hands more often.
Next day we thought we'd take a boat tour. But first we needed to transfer ourselves to a different hotel. The first one was in the Red Light District on the beautiful Oudezijds Voorburgwal. The other one was nearby, towards the Jordaan area, between Herengracht and Keizersgracht.
A typical dingy hole. We saw our room with the permanently stained carpet and bed linen and asked to be shown an alternative but after finding ourselves in an even worse one, we unpacked and went in search of a boat.
Majority of the tourist boats with glass panels leave either from Damrak, just off the Main Square – De Dam, or from the Centraal Station area. This part of A'dam has changed in the last few years hence you may want to check the most up to date guides looking for movable attractions.
A boat ride in Amsterdam is a must. No matter whether you really want it or not and whether you have done it before or not. It's like being there and not staring at the funky bikes attached to literally everything possible. It gives you a look at a completely different world. It allows you to see the, otherwise not so easy to absorb from the street level, high merchant houses and their wonderful architecture. You see the life from the water. Underbridges, canal sign posts, you observe people navigating their boats, blowing their warning horns, etc. Nothing looks the same.
Our boat took us along the most famous spots of course and it was guided in English. We already knew everything they were talking about so we concentrated on the floaty feeling, as well as on admiring the boat surroundings.
Small is something you will hear about while roaming around the canals. And although the boats usually take you only to the most famous ones, there are a few smallest things in Amsterdam that you should want to see. Just wander around and observe. Experience of a lifetime!
The narrowest street in Amsterdam is The Trompettersteeg. It is only 100 centimetres wide. Despite its small size, it's one of the busiest alleys in Amsterdam thanks to its location in the middle of the Red Light District.
Narrowest façade in the world: Singel 7
The house on the Singel number 7 is known as the narrowest house in the world but in fact it is the narrowest façade. The rear façade is one meter wide, hence barely wider than the front door. The front of the house is a lot wider.
Narrowest house in Europe: Oude Hoogstraat 22
The narrowest house in Europe can be found at 22 Oude Hoogstraat, a tiny house with a typical Amsterdam clock façade, which is only 2.02 meters wide. The house itself is five meters deep.
Widest house in Amsterdam: Kloveniersburgwal 29 – The Trippenhuis
With over 22 meters, the Trippenhuis is the widest house in Amsterdam. It was built in 1660 for the very wealthy brothers Lodewijk and Hendrick Trip. The brothers had made a fortune trading in iron, copper, guns and ammunition.
The story goes that Mr. Trip's coachman once sighed, "Ah, I would already be happy with a house as wide as my master's front door." Mr. Trip heard that and made sure his coachman's wish came true. Located at Kloveniersburgwal 26. The building has a beautiful frame façade , 2.44 meters wide. This house is known as the Kleine Trippenhuis, or the House of the coachman of Mr. Trip. It is directly opposite the Trippenhuis at nr 29.
Het Smalste Huis, the smallest house – is what became popular in the medieval Amsterdam due to the high property taxes which were being calculated based on the width of the facade. As such, cheeky clever merchants, built a barely door-width fronts (here called rare facades) and let the imagination roam behind the closed doors, where the houses could grow in height and width according to the owner's wishes. And they do.
That also is a reason why Dutch houses were so high in general. The idea was to have a shop on the ground floor, one level below was usually dedicated for the kitchen and staff. Middle floors would work as living quarters with the 1st usually being a guest floor, a living-representative space dedicated to hosting dinner parties, taking visits, business meetings, etc. The top floors would be used as magazines for the many goods that were being sold on the ground street level.
This is why you of course have the hooks attached to the top of the facades called the pediments. The hooks were used to hoist the furniture and all sorts of goods up to the higher levels as the super narrow and steep staircases were of no use here.
See this wonderful contruction of the original, intact hook machinery (the lifting wheel), from the inside of the beautifully renovated Keizergracht 544 – the house of my dreams.
Also notice how the clever Dutch designed their cities already centuries ago. 30 years of brooding in mud around the appearing canals could not have been wasted. During the urbanization process of street designing, they made sure to allow sufficient space for the wide pavements, wide roads and green zone between the edifice and the canal. This allowed plenty of room for the trade as well as easy deliveries and loading and unloading of the boats on the canals. So so clever!
Once you reach the Amstel, you will notice countless boat houses. All funky and colourful, one more interesting than the other. Currently many are used as hostels and B&B's. There's always one or two for sale there. Look here and notice how the new housing developments are being designed nowadays to dock a little estate made out of boathouses too, such as the one in Haringbuisdijk.
Amstel River is where it all started. Amstel Dam – the dam on the river Amstel, lead to the current name of Amsterdam. In short, you'd use A'dam.
Boat houses have always been a part of the Dutch landscape and they are not going anywhere. As much as in the past, regular barques and boats with multiple conversions would house the more funky, artistic types, these days you can admire some true pieces of art floating on the water.
We are talking about projects, such as the Blue 21 floating city for example with it's circulating approach to living. I adore it. See the catalogue of the super cool 21st century luxury floating boat house designs as well as the Blue 21. Just scroll down through it. Some of them can already be found on the Amstel River.
As you near the IJ, you see the Centraal Station to the left, which is a true architectural masterpiece dating back to the 19th century. The front was designed by the Dutch architects Cuypers and van Grendt and its beauty is internationally praised to this day. Inside you'd be catching a train, either locally or to Paris, Brussels, Berlin, Copenhagen, Warsaw, Prague, Minsk or Moscow. And from the back, you'd be catching a bus… or a boat as it opens up onto the water front, where the boats can dock. Thank God metro is accessible from a separate station, but only outside the building. Here you would also go for the tram as well as the city buses.
Out on the IJ is where you will also find Nemo 🙂 No need for Dori. Besides, it's been there way before Nemo even went missing. It is a ginormous structure resembling a ship and its function is to bring science into the everyday lives of its visitors. And while you read some more about it, we will take a look at the replica of the 1748 Amsterdam Ship, only stone's throw away.
This ship belonging to the Dutch West Indies Company started it's life on a Frisian island of Texel to only 18 days later sink during the storm on Canal La Manche. Just over 100 years later its wreckage was discovered in Hastings in the UK and it can still be seen there on low tide days. Local museum displays information about this ship which is protected by the UK Heritage.
On the way back to the hotel we of course went over to the Maoz shop on Muntplein (the first ever Maoz) to stuff ourselves with the most awesome falafels ever. Maoz is everywhere in A'am.
You get about 6 or 7 falafel balls into your pita and then all you need to do is pack it up with veggies from the mini bar and the best garlic sause in the world. Sit down, have the first part of it. Go back to the bar and top it up with the same, and only then are you ready to leave the shop. OMG OMG OMG….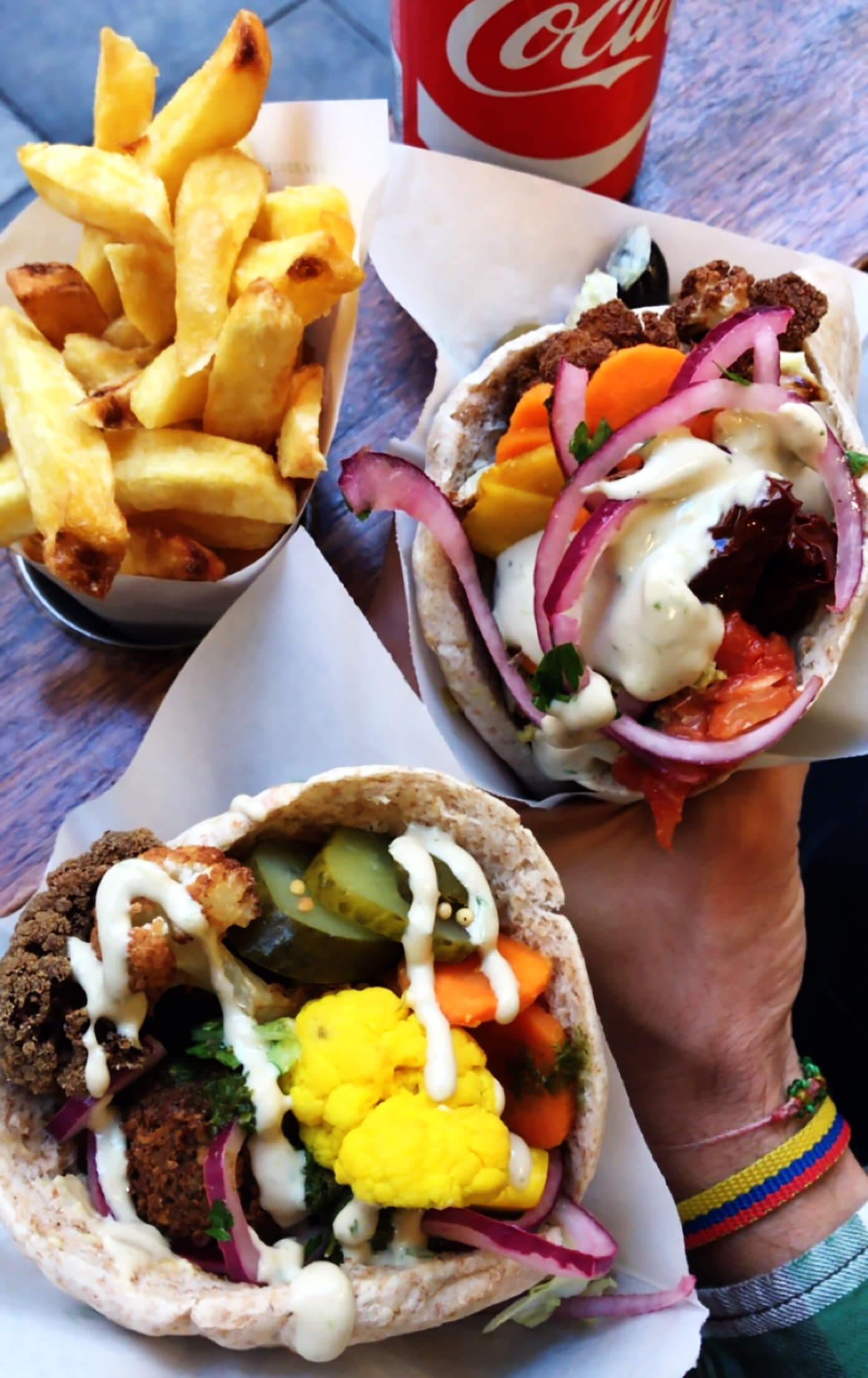 Our flight was early in the morning. It only takes 15 minutes by train to reach Schiphol but since you have to allow sufficient time everywhere, we were better off hitting the bed rather sooner than later.
Thankfully, showered in the evening because morning welcomed us with no water in the entire hotel. Lucky for them we had prepaid this accommodation as I cannot see myself giving them a penny otherwise.
Not exactly sorry, but at the same time having no option to flush, we left behind not just this place.
But as much as horrible London hotels made me want to forget this city for many years, nothing can keep me away from Amsterdam. This is my forever beloved city.
Te horen!
Anna
Make a one-time donation
Make a monthly donation
Make a yearly donation
Choose an amount
Or enter a custom amount
$
---
Your contribution is appreciated.
Your contribution is appreciated.
Your contribution is appreciated.
Donate
Donate monthly
Donate yearly