A podcast can be found here if you don't feel like reading: Posh camping with a view.
Polska wersja poniżej:
I can never tire of the views that South of France has to offer. Kilometres of fields with long green stripes of vines cover every centimetre of land in vicity, obviously one that can be cultivated.
Patches of fields and meadows of course bring more pleasure when admired off the beaten road. This time however, we were slowly heading back towards Toulouse hence time mattered, especially that a real treat was on the plate ahead of us. As such in this case we admired views from a motorway.
Early morning wakey wakey and a speedy journey to the city of La Cité.
On approach to Carcassonne we felt a bit of a disappointment. Remember we travelled without planning, maps, GPS, etc. Just a travel book, sign posts and general idea on the location of places. Things did not look overly medieval at all. Where they lying to me at the History of Architecture lectures at the university, or what?! – I thought. But no. They were not lying.
It is important to know that the higher part of the Carcassonne city known as La Bastide de Saint Louis is accross the river Aude from the old lower part called La Cité Medievale, which everybody is really after.
We joined the traffic of the city of Carcassonne. Hmmm… or more like… got lost in it
Only to drive for a while through the town's centre of this modern settlement. We quickly realised we were on the wrong side of the river, surrounded by masses of people window shopping, strolling around or simply sipping coffee at one of the many on-the-sightwalk café tables.
Quick escape this has been I have to say. In fact, in the next two days spent in the area, we did not cross the river again even once.
A view of the Petit Train de la Cité, reassured us that we were nearing our destination.
We simply needed to be patient as the road from which we approached was on the opposite side of the new town. And so it was necessary to cross that kinda ugly bridge in order to start getting the right feeling. The towers of La Cité finally miraged in front of us in the heat of an early morning…
Now we were much much happier having found what we were looking for. Next step was to find a camping spot.
Following the road signs, we passed through a little built up area just under the ramparts of the old La Cité and where it was greener, we found a true gem of a camping site – a three star place, with beautifully designated parking lots, well organised facilities and a pool, a playground and a café. Fabulous Camping de la Cité, within 5 minutes walking distance to the medieval town!
Our dirty and smelly clothes deserved to be washed at last and soon, we were all unpacked and organized in our cosy, surrounded by a fence of shrubs, that quickly turned into a loundry rope, haven of peace and quiet.
Nice shower and we were ready to conquere another fortress.
Even though today we call it a medieval town, that is known all over the world for its historical buildings surrounded by a double ring of defensive walls with a system of numerous towers and gates, the earliest traces of settlement in the site of the current La Cité date back to the 6th century BC. That's when a stronghold was built here on a rocky promontory overlooking the valley of the River Aude.
Ancient European routes connecting important trading regions were passing nearby. Via Domitia built by the Romans was one of them. Local hills of Carsac were an important commercial center of the region. It is no surprise then that the Romans ruled here five centuries later. And they protected the settlement, which they even raised to a rank of a capital city of the region, with 1200 metres of defensive walls.
Carcassone thrived under the Roman ruling until the 4th century AD when it came under the rule of the Visigoths in the fifth century. It resisted repeated attempts to conquer it by the Franks, who finally managed to do so in the 8th century. Before them, there was a period of the Saracens control too.
Somewhere during the ruling of the Franks, Moors decided to attack the city of Carcassonne. Their strategy was to wait until the citizens locked within the city walls run out of food and supplies. Obviously this was an unavoidable situation.
Once the supplies shrank drastically on both sides, so bad that there was only one pig and one barrel of grains left within the town walls, a clever Princess decided to disobey her advisors and asked her subjects to overfeed that pig with all the remaining grains, after which the pig was catapulted into the camp of the surrounding Moorish army.
Once more, a trick or in fact a simple, logical thinking of a woman, perhaps even a child, brought victory to the city. The Moors decided that since the city was so well stacked on food, they themselves will all be dead before they manage to have the citizens surrender due to hunger. And so they left to where they came from.
It was the 13th century when the city's massive walls we can see now were built, after La Cité was annexed by the French state. At this stage, Château Comtal was already within its borders, built a century earlier by Bernard Aton Trencavel in the western part of the Roman walls. The fortress was strong enough to defeat British army during the Hundred Years' War in an attack led by the Black Prince in 1355.
300 years later, Carcassone lost its military significance. The fortifications were abandoned, and the city became one of the economic centers of France, focused on the woolen textile industry. Nevertheless, it was slowly falling.
At some stage it was so neglected that French government considered putting it apart. Thankfully they came to their senses and in 1853, a thorough reconstruction and renovation of the fortress was given to the French architect Eugène Viollet-le-Duc, who is now known as the father of the French conservation works. After his death, the works were inheriteded by his student, Paul Boes Willwald, and later continued by the architect Nodet.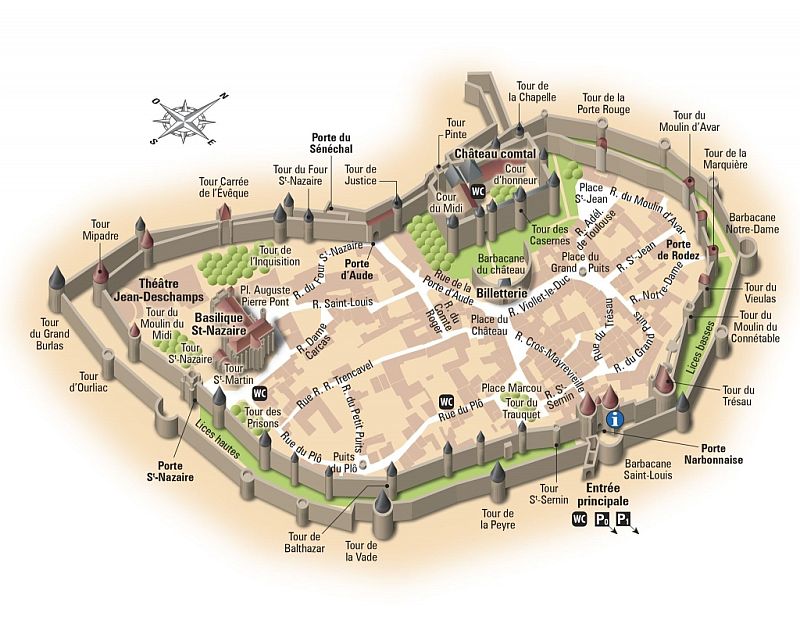 Since 1997, which is when Carcassonne was declared a UNESCO World Heritage Site for being a unique, fully walled medieval urban complex, one of the largest of its kind in Europe, which remained unchanged, La Cité is subjected to a daily stampede. Hordes of people, roughly 4 mln a year, groove the soles of their shoes into its medieval stones walking around narrow streetlets or trying to count the towers, which there should be 52.
We were these people.
After crossing the main entrance gates, you will most likely walk to your right towards the Basilique des Saints Nazaire et Celsus (Basilica of Saint Nazarius and Celsus), also known as the Basilica of Saints.
The construction of the Romanesque cathedral began in 1096. You can still see and use the entrance with an arch portal in the north façade.
The oldest part of the current church is the Romanesque nave. Majority of the building was reconstucted in the 13th century and in the Gothic style. This includes the choir with one of the oldest stained glass windows in southern France, dating back to the 1280 and depicting life of Jezus. I was mesmerised by the rosette. Can you feel the difference between heavy and dark Romanesque style and the light, airy, colorful and graphic Gothic which was to make the building look like it literally reaches for the sky?

Coming out of this incredible church into the light of day is an experience of its own. And this, in my opinion, is the best time to go out onto the ramparts. You simply pass via an arch that appears to your right. Remember you have two rows of walls here so you walk in the space that's between them.
Walking through the entire site is exhausting. It really is a proper city and it can get very hot within its walls when the weather is just under 40 °C. The hundreds of people crammed inside it like sardines in a tin do not make things any better.
After spending an entire day there, you feel exhausted, but in a satisfying way.
Be prepared for high prices on everything that's walled, especially if freshly cooked. Souvenirs are also on the rather pricey side but a coin and postcards are a necessity. Just like this very place itself. Who has not yet managed to visit it, do not procrestinate.
We left the city located within the walls for the end of our visit and it was a right decision. It is just way too busy. But extremely pretty with the half-timbered houses. You get transferred in time and space to the books of Alexandre Dumas and his musketeers.
I thought the lower town, just outside the walls of the La Cité, was very charming and we even found a little patisserie with the yummiest pastries made on the spot. People tend to ignore this part completely on their hectic attempts to reach the medieval walls and what's within them. It is a mistake though in my opinion. Since we were there for two days, we spent plenty of time strolling around and admiring the beauty of this wonderful historical site. Do that too and you will not be disappointed.
That evening we had no idea we were up for a German revolution of some sorts in the neighboring camping lot. These folks travel with entire houses it seems. First they were watching TV and listening to the radio. Then they were grilling. After that they started to drink, I guess something on the heavier note as it made them quite talkative. This led to the little fight with a bit of a clatter of cutlery and crockery. And finally we had a concerto of sexual uhs and ahs followed by snoring that could easily be coming out of freacking grizzlies.
No, they were not very young at all. 60s and as loud as can be.
Thankfully, we visited one of the local supermarkets beforehand and had Bordeaux in abundence. Plenty of cheese and grapes to go with all that and a view on the La Cité by night.

Looks like Germans and Carcassonne share some special type of love as back in the year 2000, Klaus-Jürgen Wrede published a board game designed by him named after this very city.
The rules are simple, you draw pieces and by adding them together you build a medieval settlement. However there are more options there and you can find the full description of the rules here.
The game became so popular that it now has console, PC and app versions to choose from.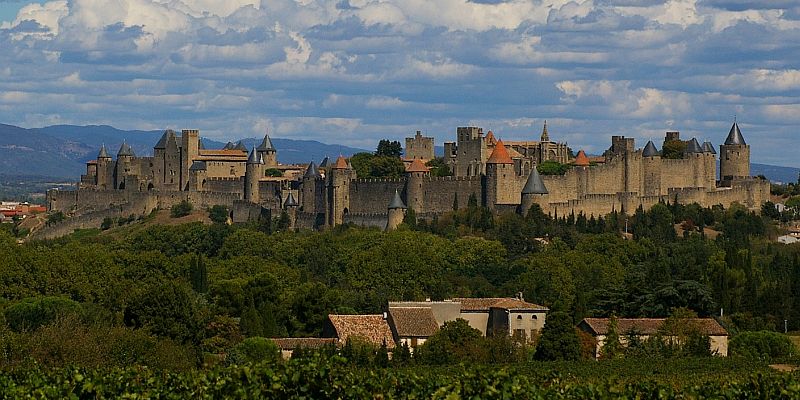 There's one more thing I should not forget to mention. Sadly we did not get a chance to attend this, but every summer between mid July and end of August, 3 times every day except Saturdays, The Grand Tournament of Chivalry, unveils within the walls of the medieval La Cité.
45 minutes of a show in the most medieval of settings and styles. Knights, horses and weapons clash in constant battles to bring back the spirit of the times.
It was the summer of 1208, when Ramon Roger Trencavel organised a great festival in his citadel of Carcassonne for the first time where the best knights could measure their skills against each other.
But that very same year started something I will tell you about on our next journey. Till then, keep in mind that only down the road from La Cité, you will find what's known as the Cathar Country.
Happy Valentine's Day!
Although please do bear in mind that kissing is one of the most disgusting things people can do. Your mouth contains millions of bacterias and saliva itself is the yuckiest of liquids known to humanity.
However, if you care to watch the short video below about the studies of the influence of kissing on the human hormones, especially if you feel stressed, which of course means that your aminos link with cortisol rather than testosterone and as a result you end up with a fat belly instead of lean musles, you may in fact, want to indulge in an hour of kissing a day, simply to lose wight.
Plus, apparently the longer the relationship the lower cortisol levels. Provided of course you enjoy kissing your partner rather than stress about it 🙂
Hmmm… but now that I think of it, good chunk of people in long term relationships get chubby with the passing years. Would it mean these people should be conidered poor kissers?
Of course my theory would not apply to singles. They are fat 'cos they don't get to kiss enough.
Anna
Make a one-time donation
Make a monthly donation
Make a yearly donation
Choose an amount
Or enter a custom amount
$
---
Your contribution is appreciated.
Your contribution is appreciated.
Your contribution is appreciated.
Donate
Donate monthly
Donate yearly