Jak zawsze, jeśli wolicie posłuchać tego artykułu, kliknijcie tutaj: Święty Port Porto Santo
Życie ma więcej wyobraźni niż my nosimy w naszych snach. – Krzysztof Kolumb
Łatwo zapamiętać, że ta mini wyspa Porto Santo, należąca do archipelagu Madery, znajduje się 43 km na północ od Madery i ma prawie 43 km² powierzchni. Otoczona jest przez kilka maleńkich niezamieszkanych skalnych wysp. Na stałe żyje tu około 5,5 tys. mieszkańców.
Maleńkie lotnisko na środku wyspy mogłoby Was tu przywitać, gdybyście mieli prywatny odrzutowiec, ale jeśli nie, to najprawdopodobniej, tak jak ja, będziecie zmuszeni do skorzystania z promu bezpośrednio z Funchal. Poniżej kopia mojego biletu z 2008 roku:
Prom opuszcza port Funchal na Maderze dość wcześnie. Dotarcie do Porto Santo zajmuje około 1,5 godziny. Niektórzy ludzie spędzają wakacje na tej maleńkiej wyspie i mogę ją całkowicie polecić, jeśli jesteście jednymi z tych, którzy są w stanie spędzić 12 godzin dziennie na plaży przez cały tydzień. Ale jeśli nie, to pewnie dwa dni będą wystarczające. Zwłaszcza, że niesamowita Madera jest tak fantastyczna, iż moim zdaniem nigdy nie można mieć jej dość.
Warto wcześnie wstać i spędzić pierwsze magiczne godziny poranne w porcie Funchal.
Podążając za światłem słońca, opuściliśmy stary świat. – Krzysztof Kolumb
Weszliśmy na pokład. Powoli opuściliśmy Funchal i podążyliśmy wzdłuż wschodniego wybrzeża Madery, mijając Machico i Ponta de São Lourenço po naszej lewej stronie oraz Ilhas Desertas (Bezludne Wyspy), w rzeczywistości zamieszkane tylko przez pająki, po naszej prawej stronie w oddali i dalej na otwarty ocean. Woda falowała za nami. Było bardzo gorąco. Klimat tutaj jest subtropikalny, dlatego temperatury prawie nigdy nie schodzą poniżej 23 °C. W okresie letnim 30 plus jest gwarantowane przez co najmniej kilka miesięcy z rzędu.
Funchal, stolica Madery, pozostaje portem, do którego regularnie zawijają statki wycieczkowe, przecinające Ocean Atlantycki. W przeszłości Winston Churchill pomieszkiwał tu i leczył swojego "czarnego psa" depresji, malując krajobrazy okolic Câmara de Lobos. Cesarz austriacki Karol I i cesarzowa Sissi również odwiedzali i do dziś ich potomkowie pojawiają się tu dość często. Ta Zielona Perła Atlantyku, którą jest Madera, przyciągnęła także George'a Bernarda Shaw'a swymi fascynującymi widokami, jedzeniem, ludźmi i kwiatami.
Zainteresowanie tą wyspą było zawsze duże, jej niedostępność stanowiła zatem problem. Madera chciała otworzyć się nie tylko na turystykę, ale także na handel z Portugalią kontynentalną i jednocześnie z resztą świata. Dlatego też w 1964 roku zbudowano lotnisko, tuż na obrzeżach Funchal na wschodnim wybrzeżu wyspy.
Nie było to jednak łatwe zadanie. Większość z Was może nie wiedzieć, że Madera to góry i tunele biegnące przez góry. Znalezienie długiego, prostego i płaskiego obszaru, wystarczającego do zbudowania pasa startowego, było praktycznie niemożliwe.
Mały kawałek ziemi sąsiadujący z górą na obrzeżach pięknej wioski Machico, okazał się być może nie idealny, ale dało się z nim pracować. Oczyszczono teren i zbudowano dwa pasy startowe o długości 1600 metrów każdy.
Nie były one jednak ani bezpieczne ani wystarczające dla rosnących samolotów, dlatego w 1986 roku jeden z pasów startowych, który znajdował się bliżej góry, został na stałe zamknięty, a drugi przedłużony do 1800 metrów.
Powtórzyła się ta sama historia – niewystarczająco dobry dla coraz większych samolotów i szybko rosnącej turystyki. W związku z tym do istniejącego pasa dodano kolejny kilometr, aby uzyskać 2781 metrów pasa startowego, który częściowo znajduje się na lądzie, ale głównie na słupach wbitych w Ocean Atlantycki.
Każda ze 180 kolumn ma około 70 metrów wysokości i dlatego najlepiej widać ją podczas jazdy pod płytą lotniskową, co jest koniecznością w drodze z Funchal na lotnisko lub do Machico. Naprawdę fascynujące doświadczenie: wyobraźcie sobie, że najpierw przejeżdżacie przez kilkukilometrowe tunele tylko po to, aby skończyć na super wysokim moście, który następnie zabierze Was pod platformę pasa startowego lotniska, gdzie jedziecie między wspomnianymi kolumnami, aby skończyć w innym tunelu z kilkoma pasami i rondami do nawigacji.
Wyżej wymieniona rozbudowa została otwarta w 2002 roku i była doceniona na całym świecie. Dwa lata później otrzymała Nagrodę za Wybitną Strukturę od Międzynarodowego Stowarzyszenia Budownictwa Mostowego i Lądowego.
Dziś lotnisko Funchal obsługuje 3 miliony klientów rocznie.
Przejażdżka promem to doskonała okazja do podziwiania niesamowitych widoków na lotnisko na Maderze, które jak widać, jest bardzo wyjątkowe i piloci muszą przejść specjalne szkolenie, aby móc tam lądować i startować. Jest to jeden z powodów, dla których Funchal jest droższy w porównaniu z sąsiednimi Wyspami Kanaryjskimi. Większość linii lotniczych po prostu nie lata tu regularnie. W związku z tym pozostają loty czarterowe lub loty łączone, ponieważ port jest używany głównie przez portugalskie linie lotnicze. Ponadto, ze względu na brak typowych dla Wysp Kanaryjskich piaszczystych plaż i ryzyko mżawki, ludzie wolą te pierwsze, które jednocześnie są tańszą opcją.
Nie wiedzą co tracą. Przekonajcie się sami, bo od kwietnia Ryanair będzie obsługiwał trasy do Funchal'u nawet dwa razy w tygodniu!
A czy wiecie, czyje nazwisko nosi lotnisko w Funchal? Tak, niesamowicie utalentowanego, rodem z Funchal, Cristiano Ronaldo oczywiście. Poniżej raczej niefortunna rzeźba słynnego piłkarza.
Na szczęście jego matka sprzeciwiła się temu, a rzeźba została zastąpiona przystojniejszą i bardziej realistyczną wersją. Można ją zobaczyć w terminalu lotniska.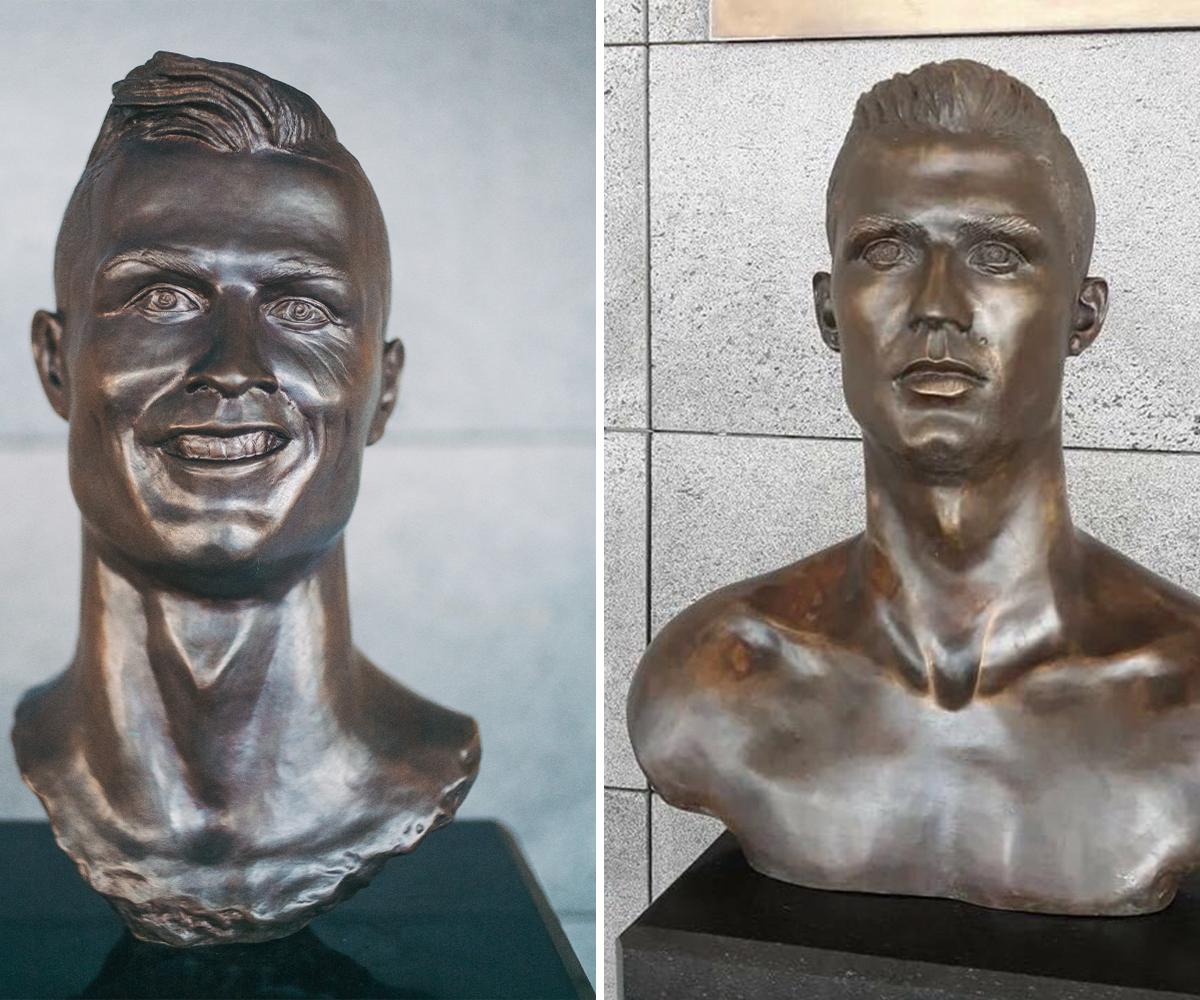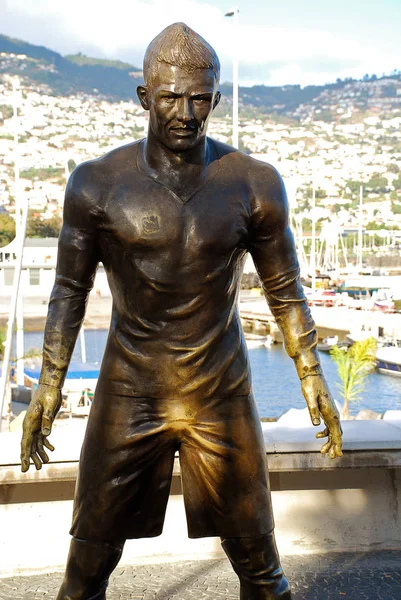 A skoro o Ronaldo mowa, to ma on jeszcze jeden pomnik, w porcie Funchal. Ponoć potarcie jego "wiecie czego" przynosi szczęście 🙂 Zastanawiam się, co na to mama 🙂
R.E.M. = R-onaldo E-ros z M-adery.
Porto Santo to 9 mil złotej, piaszczystej plaży – Praia Dourada, która biegnie wzdłuż całego południowego wybrzeża wyspy i to tutaj większość przybywających na Maderę udaje się na słoneczną część swojego pobytu. Trzy plaże Madery są małe i z czarnego piasku wulkanicznego. Mieszkańcy Madery podróżują tu regularnie. Zakładam, że mają zniżkową ofertę na podróże promem, ale nie jestem pewna.
Gdy zbliżacie się do Porto Santo, pierwszym widokiem, który pojawia się przed Waszymi oczami, są strome klify sąsiednich wysepek. Nic nie sugeruje tego, co kryje się tuż za nimi. A kiedy to, co się za nimi kryje, otwiera się przed Wami, możecie być pewni, że Wam szczęki opadną i będziecie się ślinić, nie zdając sobie z tego nawet sprawy.
Silniki się zatrzymały. Łódź ustawiła się przy molo. Wszyscy spojrzeli w lewo i…
…. dosłownie zaczęli wybiegać z promu.
My poszliśmy znaleźć najbliższą wypożyczalnię samochodów i dostaliśmy maleńkiego smroda na cały dzień za równowartość tego, co zapłaciliśmy za wynajęcie jeepa na tydzień na Maderze, ale trzeba było to zrobić!
W Porto Santo nie ma zbyt wielu dróg i dlatego przejechaliśmy nimi wszystkimi! I jeszcze pozostało nam kilka godzin na cieszenie się plażą!
Nie ma potrzeby dużo tu mówić, więc pozwólcie, że zabiorę Was na wycieczkę fotograficzną po tym małym klejnocie na Atlantyku.
Calheta – Ponta (Ponta da Calheta) po przeciwnej stronie plaży z bajecznymi widokami na Ilheu de Baixo i wybrzeże.
Następnie, Ponta da Canaveira po północnej stronie z widokiem na Ilheu de Ferro:
Jak zauważyliście, mój bilet na prom pochodzi z 2008 roku. Cieszę się, widząc bardzo pozytywne zmiany na Porto Santo. Kiedy my tam byliśmy, było znacznie mniej miejsc noclegowych, a także punktów gastronomicznych, w porównaniu do tego, co widzę teraz podczas przeglądania internetu. Niektóre główne zabytki, takie jak Moinhos de Vento (Wiatraki) były kiedyś zaniedbane i opuszczone, podczas gdy teraz wydają się być prawdziwą atrakcją turystyczną. To sprawia, że moje serce skacze z radości 🙂
Zobaczcie poniżej, 2008 vs 2021 (betonowe konstrukcje, widoczne na moim zdjęciu, również zniknęły – ufff!). To Miraduro de Portela.
W końcu, zanim jeszcze udaliśmy się na akcję plażową, odwiedziliśmy Vila Baleira. Piękne, małe i świetnie utrzymane miasteczko, dumne ze swojej najsłynniejszej atrakcji turystycznej na wyspie – Casa de Cristóvão Colombo – Dom Krzysztofa Kolumba – Museu do Porto Santo, muzeum znajdujące się w domu, w którym kiedyś mieszkał podróżnik.
Muzeum jest nie tylko dokumentacją obecności odkrywcy w archipelagu Madery, ale także wskazuje na strategiczne znaczenie wyspy w czasach portugalskiej ekspansji morskiej. Kolumb pracował tu jako handlarz cukrem.
W połowie września na wyspie odbywa się Festiwal Colombo. Krzysztof Kolumb mieszkał w Porto Santo przez kilka lat z Philipą Moniz, którą poślubił w Lizbonie. Była ona córką kapitana, a la zarządcy, Porto Santo. To tutaj urodził się jego syn, Diego. Miał jeszcze jednego syna z nieprawego łóża.
Jeśli chodzi o sam Festiwal, cóż, jak to z festiwalami bywa, ten przeniesie Was z powrotem do świata końca XV-wiecznego archipelagu Madery. Będziecie bawić się na lokalną modłę, z lokalnym jedzeniem i muzyką. Zobaczycie życie mieszkańców, z czasów, gdy Kolumb przechadzał się wzdłuż Praia Dourada.
Liczne pokazy, parady, gry, zabawy, stragany, cyrk, teatr i wystawy bawią turystów. A wszystko to na tym maleńkim kawałku ziemi gdzieś na Atlantyku. Wśród nich wielką atrakcją jest scena przybycia Kolumba na wyspę odgrywana przez aktorów.
Łódź, którą widzicie na poniższym filmie, nazywa się Santa Maria de Colombo i to na niej właśnie przypływa wielki nawigator. Jeśli jesteście na tyle odważni, aby wejść na jej pokład z prawdziwymi żeglarzami, możecie. Pokażą Wam delfiny, jeśli jesteście dobrymi chłopcami i dziewczynkami, a na koniec poczęstują Was winem i ciastem z Madery. O tym jednak w innym moim artykule 🙂
Jednakże
Łatwo jest odkryć to, co inny odkrył wcześniej. – Krzysztof Kolumb
dlatego teraz przyszedł czas na WAS! by udać się tam i znaleźć dla siebie rzeczy jeszcze nieodkryte.
Aby pomóc Wam znaleźć drogę, oto mapa, której Kolumb rzekomo używał podczas swoich licznych podróży. Strzeżcie jej swoim życiem!
Ahoj!
Anka