Jak zawsze, poniżej podcast dla tych, którym nie chce się czytać: Studnia bez dna czyli Nowy Wiśnicz
(Zdjęcie w tytule: M. Tabor – Zamek w Nowym Wiśniczu na tle Tatr)
Nowy Wiśnicz to miasteczko nie małe, ale i nie wielkie a poszczycić się może zamkiem, domem i rodziną Jana Matejki, jednym z najbardziej strzeżonych więzień w Polsce w poklasztornych budynkach no i wiśnickim liceum plastycznym znanym w całym kraju.
Wszystkie te miejsca udało mi się zobaczyć od środka i zdecydowanie polecam przejażdżkę w te okolice.
Będąc jeszcze w liceum, wymyśliłam sobie którejś zimy, że koniecznie muszę pomieszkać chwilę w przyszkolnym internacie. Jedna z dziewczyn w mojej praktycznie męskiej klasie pomieszkiwała tam właśnie i tak się składa, że dzieliła pokój z dziewczyną uczęszczającą do wiśnickiego "plastyka", czyli liceum plastycznego.
Spędziłyśmy sobie fantastyczną zimę dzieląc pokój we trzy. Zakończenie pobytu przyszło jednak szybko i niespodziewanie po tym, kiedy to kierowniczka któregoś dnia weszła do pokoju, a jedna z odwiedzających koleżanek (z innego pokoju) nie wytrzymała i puściła mega pawia do kosza, centralnie pod nosem kobiety 😀 No ale cóż, dlatego ma się 17 lat, czyż nie?
Zanim zima dobiegła końca, udało mi się jeszcze przedostać cichaczem do plastyka i popodglądać co tam się wyprawia. A wyprawia się wiele. Artystów od liku, z całej Polski. Jedni malują, inni rzeźbią, jeszcze inni tworzą arcydzieła ceramiczne. To tu po raz pierwszy zobaczyłam kiln czyli piec do wypalania ceramiki. Bomba. Nie jednego Jezuska i dzwoneczek ulepiłyśmy razem z gliny 🙂
Mniej więcej w tym samym okresie udało się nam również zrobić coś innego niezwykłego. Koleś, który hajtnął się z córką kolegi z pracy mojego taty, okazał się być świeckim katechetą. Los chciał, że zatrudnił się w liceum, do którego uczęszczałam. Zajęcia z etyki były niezwyczajne i któregoś dnia pojawił się w klasie niezwyczajny człowiek. Jego nazwiska już nie pamiętam, ale zajmuje się on resocjalizacją więźniów z wiśnickiego więzienia.
Zakład Karny w Nowym Wiśniczu to zamknięty zakład karny dla recydywistów. Kary 30 lat do dożywocia. Zakład podlega dyrektorowi okręgowemu Służby Więziennej w Krakowie.
Służba Więzienna zatrudniona w tutejszej jednostce zajmuje się w dużym stopniu resocjalizacją. Prowadzone są programy readaptacyjne, w których udział bierze grupa osadzonych wyselekcjonowana ze względu na określony problem (nadużywanie substancji psychoaktywnych, przemoc domową, problemy z kontrolowaniem emocji, itp). Rocznie około 80 osadzonych bierze udział w kursach zawodowych organizowanych na terenie jednostki w różnych zawodach, głównie budowlanych. Skazani mają możliwość podjęcia pracy na terenie zakładu karnego, oraz na rzecz firm prywatnych.
Wiśnicki zakład karny mieści się w budynkach odziedziczonych po klasztorze Karmelitów Bosych. Wybitne dzieło wczesnego baroku. Wzniesiony na wzgórzu, góruje z sąsiadującym Zamkiem nad całą miejscowością. Klasztor został ufundowany przez Stanisława Lubomirskiego (1583-1649), jako dar wdzięczności za zwycięstwo pod Chocimiem w 1621 r.
W skład zespołu klasztornego wchodzą: budynek klasztorny, kościół Chrystusa Zbawiciela oraz fortyfikacje bastionowe.
Kasatę Klasztoru Karmelitów Bosych ogłosił dekretem z 1783 r. cesarz Józef II. Budynki klasztorne przeznaczono na ciężkie więzienie, a od 1786 roku mieścił się tu również sąd i mieszkania sędziów. Tutaj przyszedł na świat malarz Juliusz Kossak, syn sędziego sądu karnego Michała.
W 1939 roku na początku II Wojny Światowej, po opanowaniu Polski przez Niemców, więzienie zostało wykorzystane na obóz koncentracyjny- do czasu założenia obozu w Auschwitz.
Kościół klasztorny był systematycznie dewastowany a potem rozebrany. W 1940 Niemcy, aby uczcić aneksję Danii urządzili imprezę na wzór germańskiego święta Walpurgii. Część kościoła została, wówczas spalona. W 1944 r. odbito tutaj więźniów politycznych.
Wiśnickie więzienie funkcjonuje w różnych formach od ponad 230 lat. Dramatycznym wątkiem najnowszej historii jednostki był bunt więźniów i zajęcie zakładu w 1989 roku. Dzięki negocjacjom podjętym przez kierownictwo więzienia bunt skazanych zakończył się bezkrwawo.
W latach 1990, a później 2014-15 skanalizowano budynek, wykonano termomodernizację całego obiektu, doprowadzono centralne ogrzewanie do każdej celi mieszkalnej, wymieniono oświetlenie na nowoczesne czyniąc go nie tylko bardziej funkcjonalnym, ale przede wszystkim tańszym w eksploatacji, a w roku 2020 oddano do użytku nowy pawilon penitencjarny, w którym znajduje się 60 czteroosobowych cel mieszkalnych.
Z tamtego dnia pamiętam tylko kilka rzeczy. Staliśmy pod bramą więzienia – grupa ok. 25 – ciu siedemnastolatków z trzema lub czterema opiekunami ze szkoły. Wokół nas uzbrojeni zamaskowani strażnicy. W którymś momencie wyszedł jakiś wielki facet z dzikim spojrzeniem. I akurat popatrzył na mnie. Byłam przerażona, mimo że to pewnie był tylko jeden ze strażników, ale atmosfera była raczej ciężka i kiedy zobaczyłam, że podszedł do budki telefonicznej to moja wyobraźnia wymyśliła sobie, że z pewnością był to jakiś niebezpieczny koleś, którego akurat właśnie wypuścili po 30 latach… no sami wiecie… adrenalina.
I wtedy zabzyczało. Otworzono zewnętrzne metalowe drzwi i wysoki starszy pan zaprosił nas do środka. I znowu zabzyczało. Tylko, że teraz byliśmy już w środku. Panika. Kazali nam oddać dowody osobiste i zatrzymali je w takim małym biurze po prawej stronie, gdzie siedział sobie jakiś facet. Po kilku minutach cała nasza grupa przeszła przez kolejną bramę na wielki dziedziniec pod otwartym niebem. Znowu za nami zabzyczało.
Prosto przed nami piękne wielkie obrazy zamku wiśnickiego, który znajduje się zaledwie może kilometr stąd. Wielu spośród więźniów to utalentowani ludzie. Po lewej zabudowania starego klasztoru.
Patrzymy na pozostałości kaplicy. Pan "klawisz" opowiada nam historię tego miejsca. Mówi o kościach, które przez lata przypadkiem znajdowano na dziedzińcu przy okazji mniejszych lub większych remontów. Ponoć były czasy w okresie powojennym kiedy to w czasie gry w piłkę nożną gdzieś na piaszczystym dziedzińcu można było zahaczyć butem o wystającą z ziemi kostkę….
Nagle, po lewej stronie pojawia się grupa więźniów. Już nie pamiętam czy byli w jakikolwiek sposób skuci chociażby kajdankami. Prowadzili ich pracownicy więzienia. Nasz "pan przewodnik" powiedział, że ta akurat grupa szła bodajże do pracy tudzież na jakieś zajęcia. Niestety już nie pamiętam.
Obecnie w wiśnickim więzieniu jest 678 miejsc dla penitencjariuszy, a pełni w nim służbę 224 funkcjonariuszy Służby Więziennej i 30 pracowników cywilnych, w tym 7 nauczycieli.
W 1978 roku powołany został Zespół Szkół przy ZK Nowy Wiśnicz. Średnio w każdym roku szkolnym kształci około 100 osadzonych na poziomie Liceum Ogólnokształcącego, Zasadniczej Szkoły Zawodowej o kierunku monter-elektronik i blacharz, a od roku szkolnego 2012/2013 powołano Gimnazjum. Po zakończeniu nauki w szkole średniej osadzeni mają możliwość przystąpienia do egzaminu maturalnego, który odbywa się na ogólnych zasadach, jak w szkołach wolnościowych.
Historie opowiadane przez "klawiszów" dozorujących w tym więzieniu są różne. Nasz pan przewodnik kulał troszeczkę. Któregoś dnia oberwał bodajże metalowym prętem od jednego z więźniów w okolicę karku, co uszkodziło jego kręgosłup i doprowadziło do permanentnej dysfunkcji ruchowej.
Od resocjalizatora już wcześniej słyszeliśmy o zupełnie szalonych przypadkach, gdzie ludzie potrafili sobie nawet gwoździe wbijać do głowy między płaty mózgowe, byle tylko dostać się poza mury np. do szpitala i stamtąd próbować ucieczki.
Po takich opowieściach weszliśmy do jednego z pomieszczeń z celami. Tylko na chwilę oczywiście, ale było to raczej nieprzyjemne doświadczenie. W takich momentach człowiek naprawdę zastanawia się nad tym czym my ludzie jesteśmy i jak to możliwe, że takie miejsca w ogóle istnieją i że są de facto zapełnione. Kto ponosi winę? Rodzice? System?
Jakiś czas temu obejrzałam film "Mustang" o więźniach, którzy w ramach resocjalizacji oswajali dzikie mustangi. Spodobała mi się inicjatywa, chociaż oswoić mustanga oznacza uwięzić go, więc taki raczej paradoks. Została mi jednak w pamięci jedna scena, gdzie psycholożka zapytała po kolei każdego z uczestników spotkania ile lat są już w więzieniu, ile im jeszcze zostało oraz ile czasu minęło każdemu z nich pomiędzy podjęciem decyzji o dokonaniu czynu a jego wykonaniem. I wiecie co powiedziała większość z tych mężczyzn? Czyn został dokonany w przeciągu sekund, a kara trwa często całe życie.
Polecam artykuł "Klątwa bycia recydywistą" by móc spojrzeć na tą kwestię z różnych perspektyw.
Niektórzy twierdzą, że wiśnicki klasztor połączony był niegdyś podziemnymi tunelami z zamkiem Kmitów i Lubomirskich, (który orzeczeniem sądu w Tarnowie z 2009 roku został odebrany Lubomirskim i przekazany Skarbowi Państwa). Takie tunele nie byłyby pewnie niczym nadzwyczajnym i niespodziewanym biorąc pod uwagę, iż klasztor powstał na zlecenie panów Lubomirskich. Nikt jednak z obecnych zamkowych pracowników nie potwierdza tego faktu. Nie istnieją ponoć żadne dokumenty tudzież plany, które przychyliłyby się owej teorii.
Z Wiśniczem związana jest też legenda o "lotnikach", która opowiada o zatrudnionych przy budowie fortecy (prawdopodobnie klasztoru, skoro to on był ufundowany po owym zwycięstwie) jeńcach tureckich lub tatarskich, wziętych do niewoli podczas bitwy pod Chocimiem.
Mieli oni próbować ucieczki przy pomocy skonstruowanych przez siebie skrzydeł. Oczywiście żadnemu z nich się to nie udało, a w miejscach, gdzie spadli, ustawiono wysokie, kamienne kolumny, zwieńczone krzyżami.
Zamek wiśnicki, jakżeby inaczej, od zawsze służył jako swoista galeria sztuki dla artystów z pobliskiego plastyka. Kiedy byście się tam nie pojawili, sztuka będzie Wam towarzyszyć na każdym kroku, jak również wystawy o tematyce historycznej, np. niedawno zakończona wystawa replik strojów dziecięcych z okresu XVII do XIX w. itp.
Może nie wszystkim wiadomo, iż królowa Bona, na co dzień zamieszkująca wzgórze wawelskie, była częstym gościem w Wiśniczu. Ówczesny Pan na Zamku, Piotr Kmita herbu Szreniawa był lojalnym stronnikiem Bony. Podobno to właśnie tutaj i właśnie na polecenie Bony, Piotr Kmita podał Barbarze Radziwiłłównie, żonie syna Bony, Zygmunta II Augusta, truciznę o powolnym działaniu. Królowa Bona nienawidziła bowiem swej synowej.
Barbara Radziwiłłówna będąc księżną litewską była poddaną króla polskiego. Po śmierci swego pierwszego męża, nawiązała płomienny romans z młodym królem polskim, Zygmuntem Augustem, a on poślubił ją w sekrecie. Nazywano ją nierządnicą litewską, wyliczając jej rzekomych kochanków. Wybuchł wszechobecny skandal.
Pomimo tej niespokojnej atmosfery w kręgach królewskich, Zygmunt August robił wszystko, by jego ukochana małżonka została koronowana. Stało się to na pół roku przed jej śmiercią, poprzedzoną ciężką chorobą. Lekarze bezradnie rozkładali ręce. W końcowej fazie choroby ponoć piękne ciało Barbary pokryło się wrzodami i zaczęło wydzielać nieprzyjemną woń do tego stopnia, że nikt ze służby nie chciał jej usługiwać. Barbara zmarła w mękach.
Jej duch ukazuje się czasem w komnatach zamku w Nowym Wiśniczu. A ci, którzy nie mieli okazji jej jeszcze zobaczyć mogą to uczynić za pomocą projekcji VR czyli wirtualnych okularów, gdzie odbywacie lot po wnętrzach zamku, spotykając również jego mieszkańców.
Pogardzana i niezrozumiana przez naród przepiękna Barbara była wielką miłością Króla, tak wielką, iż korzystając z czarów Mistrza Twardowskiego chciał on ściągnąć ją z zaświatów.
Najsławniejszy czarnoksiężnik Krakowa, Jan Twardowski był alchemikiem. Pracował nad wynalezieniem kamienia filozoficznego, który umożliwiłby przemianę dowolnego metalu w złoto. Potrafił też odmładzać i leczyć choroby. To ponoć on usypał położoną niedaleko Krakowa Pustynię Błędowską.
Swoją wiedzę i znajomość magii zawdzięczał Twardowski diabłu, któremu zaprzedał duszę podpisując cyrograf. Chciał jednak przechytrzyć czarta, więc do cyrografu dodał paragraf mówiący o tym, że diabeł może zabrać jego duszę do piekła jedynie w Rzymie, którego przez długie lata mistrz starannie unikał.
Zyskał bogactwo i sławę stając się dworzaninem króla Zygmunta II Augusta, który po śmierci ukochanej małżonki Barbary otoczył się astrologami, alchemikami i magami.
Któregoś dnia zgłosili się do Mistrza Twardowskiego bracia Mniszkowie, proponując Wielkiemu Magowi worek dukatów za przywołanie z zaświatów ducha Barbary Radziwiłłówny. Jej widok miał pocieszyć Króla Zygmunta w jego przeogromnej żałości i uchronić go przed wyniszczającą depresją.
Twardowski poprosił o kilka dni na zastanowienie się. Będąc już w swojej komnacie, wyjął z szuflady czarnoksięską księgę otrzymaną kiedyś od Diabła Trzeciaka. Coś błysnęło i z otwartej księgi wyskoczył niewielki koziołek, który w oka mgnieniu zamienił się Diabła i pokłonił się swemu Panu. Diabelska moc nie była jednak w stanie przywrócić zmarłego zza światów, a tym bardziej, że Barbara wcale do piekła nie trafiła. Twardowski miał zatem problem bo w niebie to już w ogóle wtyków nie miał. Postanowił więc ująć się podstępu.
Bracia Mniszkowie sprowadzili piękną mieszczkę – Barbarę Giżankę. Kobieta ta była niczym lustrzane odbicie Barbary Radziwiłłówny. Do ociemnionej komnaty wprowadzono króla, a przed nim umieszczono lustro, nad którym Mistrz Twardowski czynił magiczne znaki.
Kiedy zegar wybił północ, w lustrze ukazała się niewiasta, do złudzenia przypominająca ukochaną żonę króla. Widok ten tak Zygmuntem wstrząsnął, że zemdlał. Wydarzenie to widocznie uspokoiło królewskie nerwy i mimo, że wciąż nosił żałobne szaty, mniej rozpaczał po Barbarze.
Twardowski i królewski pokojowiec Mniszek nie mieli jednak zamiaru poprzestać na tym. Po kilku tygodniach, ten drugi przedstawił królowi Barbarę Giżankę. Król oszalał na jej punkcie i stała się ona jego niekoronowaną królową. Miała na niego tak ogromny wpływ, iż panowie dworu postanowili się jej pozbyć. By tego uniknąć, król posłał całą rodzinę na Podlasie a sam, schorowany udał się do rezydencji w Knyszynie, gdzie zmarł. Ciało króla ponoć jeszcze nie wystygło, a Giżanka i jej rodzina już rabowali całe królewskie mienie do tego stopnia, że nie było nawet czym przykryć ciała ostatniego z Jagiellonów.
Nie ma pewności co do tego kto wywiózł lustro Twardowskiego do kościoła w Węgrowie. Niektórzy twierdzą, że on sam uciekając przed zemstą Mniszków, inni że ochmistrz Zamku Królewskiego w Warszawie podarował je swemu bratu, proboszczowi parafii, który to skropił je mocno wodą święconą znając historię wywoływania ducha Radziwiłłówny.
Pewnego razu miejscowy kościelny spojrzał w owo lustro i miast własnego odbicia ujrzał straszliwą maszkarę. Bez zastanowienia uderzył w nie ciężkim pękiem kluczy i zwierciadło pękło.
Ksiądz proboszcz kazał je wynieść do zakrystii i zawiesić jak najwyżej, tak by nikt już nigdy nie mógł go dosięgnąć i się w nim przejrzeć.
A Twardowski? Pewnego dnia trafił do karczmy o niefortunnej nazwie… "Rzym". Ponoć to ta sama, w której można się do dziś najeść i napić w Suchej Beskidzkiej. Jednak gdy zniecierpliwiony diabeł przybył tam po jego duszę, Twardowski wskoczył na koguta i wzbił się w niebo! Podobno wciąż siedzi na Księżycu i tęskni za Krakowem, a jego służący w postaci pająka raz na miesiąc odwiedza miasto, by zebrać najświeższe ploteczki.
Posłuchajcie jak nasz wieszcz Adam Mickiewicz o tym pisał: Pani Twardowska – Ballada. Oczywiście jak zwykle kobieta uratowała facetowi tyłek….
Jedna z komnat na wiśnickim zamku skonstruowana jest w taki sposób, że będąc w jednym jej kącie, można usłyszeć nawet bardzo cichą rozmowę odbywającą się w przeciwległym rogu pomieszczenia. W dawnych czasach pokój ten służył do spowiedzi. To tutaj Lubomirski podsłuchiwał spowiedzi swej małżonki. I o ile wyżej wspomniane ciekawostki mogą mieć w sobie mniej lub więcej prawdy, ta akurat jest prawdziwa, a testu dokonałam osobiście.
Ciekawostką na Zamku jest również tzw. trasa Nietoperzy – tajemne podziemne przejście, gdzie znajduje się wystawa narzędzi tortur.
Nie mogę się powstrzymać przed wspomnieniem jeszcze jednej niesamowitej rzeczy, o której mało kto wie, a która jest wyjątkową spuścizną historii polskiej i można się jej przyjrzeć z bliska właśnie w Wiśniczu, mianowicie pompa funebris.
Przepięknie o tej tradycji opowiada Radosław Gajda z kanału Architecture is a good idea:
Pogrzeby szlacheckie na ziemiach Rzeczypospolitej pełne były przepychu, dostojeństwa i ostentacyjnie manifestowanego bogactwa. Sama ceremonia pogrzebowa, zazwyczaj trwała wiele dni i była wydarzeniem z pogranicza teatru. Zmarły, miał się przypatrywać temu widowisku, w którym wychwalano jego i jego zasługi, więc jeszcze za życia fundował sobie portret trumienny, z którego mógł obserwować ową imprezę. Zobaczcie jak to wyglądało. Ten ciekawy zwyczaj opiszę innym razem, bo jest naprawdę niezwykły.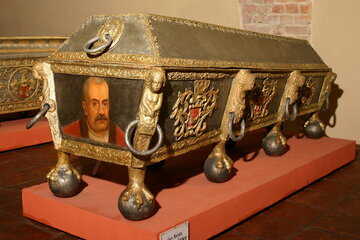 Wybrałam się na wirtualną przechadzkę po zamku i udało mi się zrobić fotkę właśnie kilku obrazów trumiennych, które wystawione są w Wiśniczu. Spójrzcie:
Tak się składa, że moja ostatnia ogniskowo-kiełbaskowo-alkoholowa impreza jaką pamiętam odbyła się tuż pod wiśnickim zamkiem. Miałam 19 lat i bodajże tydzień albo 2 później wyjeżdżałam na wakacje do Irlandii. No! Troszkę mi się te wakacje przeciągnęły do szesnastu lat 🙂 no cóż….
Wiśnicz i otaczające go okolice, na przykład Bochnia, o której możecie poczytać lub posłuchać w moim artykule: Solna Góra Sukcesu – Bochnia, są tak bogate w spuściznę kultury, sztuki i historii, że jeszcze Wam o tym poprzynudzam nie raz. Studnia bez dna.
Na razie pozdrawiam,
Anka
Make a one-time donation
Make a monthly donation
Make a yearly donation
Choose an amount
Or enter a custom amount
$
---
Your contribution is appreciated.
Your contribution is appreciated.
Your contribution is appreciated.
Donate
Donate monthly
Donate yearly