Posłuchajcie podcastu tutaj: Jest port wielki jak świat….
To była kolejna podróż do Amsterdamu. Z takim prostym planem… ciesz się robieniem czegokolwiek.
Znam Amsterdam jak własną kieszeń po tym, jak mieszkałam tam przez dość długi czas dobrych parę lat temu, o czym na pewno kiedyś napiszę. Wtedy żyłam jednak życiem miejscowego, a tym razem mieliśmy na myśli coś zupełnie innego. Chcieliśmy robić wszystkie turystyczne badziewia i bez zbytniego obciążania mózgów myśleniem. Po prostu luz.
Zarezerwowałam hotel w centrum. Na zdjęciach wyglądał dobrze, ale nigdy wcześniej tam nie byłam.
Specjalnie poprosiłam o najwyższe piętro, abyśmy mogli mieć ładne widoki na miasto.
Po przyjeździe przypomniano nam, dlaczego najwyższe piętro nie jest tak dobrym pomysłem, gdy planujesz imprezować w Amsterdamie. Dwa powody: okna mogą być zbyt małe i zbyt wysoko osadzone, aby możliwe było jakiekolwiek podziwianie miasta, ponieważ najwyższe piętra zostały pierwotnie zaprojektowane jako magazyny. Kolejną rzeczą są schody. Tysiące niezwykle stromych i wąskich schodów sprawia, że twoje uda krzyczą z bólu w połowie drogi na szczyt. A wspinanie się po nich po pijaku lub w stanie odurzenia jointowego to wyzwanie stulecia.
Domy holenderskie, szczególnie w Amsterdamie wzdłuż głównych kanałów w centrum: Herengracht (kanał dżentelmenów), Prinsengracht (kanał książęcy), Keizersgracht (kanał cesarski) i Singel (od holenderskiego omsingelen oznaczającego "otaczać"), są czystymi arcydziełami.
Zostały zbudowane około XVII wieku w okresie tzw. Holenderskiego Złotego Wieku, kiedy to Niderlandy świętowały swoją niesamowitą potęgę gospodarczą, mającą siłę w imponującej flotylli, używanej do importu i eksportu towarów po całym świecie.
Kiedy mówiłam o Sinterklaas-ie, wspomniałam o koloniach należących niegdyś do Holendrów, poczytajcie w poniższym blogu:
Dzięki wpływom na całym świecie Holendrzy zarabiali miliony. Ponoć mały woreczek herbaty stanowił równowartość ładnego domu w tamtych czasach.
Tropenmuseum, niedaleko zoo, zabierze Was z powrotem do czasów Holenderskich Indii Zachodnich. Dowiecie się tam na przykład, że to Holendrzy przywieźli kawę do Brazylii, ponieważ wcześniej była tam po prostu nieznana, a także wiele, wiele innych ciekawych historii.
Dzięki tak kwitnącemu biznesowi byli oni w stanie budować miasta na ziemiach odzyskanych z morza (polderach), na bagnach i torfowiskach, używając kilkudziesięciometrowych dębowych słupów, które będą podtrzymywać te struktury tak długo, jak długo tlen nie zechce się bawić z nasączonym wodą drewnem lub dopóki szczury i inne stworzenia nie zrobią sobie z nich przekąski.
Chociaż, ze względu na oczywiste prądy i ruchy błota na morskim dnie, w którym owe słupy są osadzone, dochodzi do ich osuwania się, a dzięki temu najstarsze części wielu miast, w tym Amsterdamu, cieszą się pokazem tańczących domów.
W rzeczywistości jednak jest to dość przerażające, ponieważ owe domy są dosłownie w trakcie zawalania się i jest to tylko kwestia czasu, kiedy konstrukcje wsporcze nie będą już wystarczająco wspierające.
W dzisiejszych czasach, gdy stare budynki są zastępowane nowymi, ogromne żelbetonowe słupy wtłaczane są do wody przed wylaniem pierwszego poziomu betonu. Słupy te są bardzo dobrze widoczne z łodzi w okolicy portu, gdzie budowane są nowe osiedla.
Kiedy mieszkałam w Amsterdamie, miałam szczęście, ponieważ jeden z domów w okolicy był odbudowywany. Mogłam z łatwością wspiąć się na dach sąsiedniego domu i spędzić godziny podziwiając ten niesamowity spektakl. Trochę jak z filmu science fiction, szczerze mówiąc.
W rzeczywistości w Holandii jest więcej rzeczy, które są trochę bardziej niż trochę science fiction. Na przykład sposób układania ich brukowanych dróg za pomocą maszyny która dosłownie "drukuje" gotowe jezdnie.
Nie wspominając już o ich najnowszych technologiach wykorzystujących plastik z recyklingu do tworzenia autostrad. Jest to złożona, wielowarstwowa, ogromna płyta, która łączy się z inną w taki sposób, w jaki klikacie ze sobą laminatowe deski podłogowe.
Zaprojektowane są one w taki sposób, aby woda mogła przepływać przez nie, wewnątrz, po natychmiastowym osuszeniu powierzchni. Kiedy płyta zostanie uszkodzona, można ją wymienić tak jak się wymienia poplamiony kwadracik dywanu w biurze.
Nie chcę nawet zaczynać na temat projektów inżynierii wodnej, nad którymi pracują teraz Holendrzy w związku z rosnącym ryzykiem podnoszenia się poziomu wody. Naprawdę niewyobrażalne rzeczy. Ale życie pod poziomem morza zobowiązuje.
Jedną z rzeczy, które zrobiliśmy tym razem, było wędrowanie i wpatrywanie się w wystawy galerii, odwiedzanie sklepów i podziwianie tej wspaniałej architektury, którą ludzie zwykle ignorują.
Kiedyś kopanie kanałów, wzdłuż których możemy teraz spacerować, zajęło długie 30 lat. Amsterdam i Holandia nigdy nie byłyby tym, czym są bez nich. I dlatego tym razem doceniliśmy właśnie je.
W przeszłości zaglądałam na skraj Dzielnicy Czerwonych Latarni po najlepsze chińskie jedzenie w mieście. Tym razem postanowiliśmy wejść na wyższy poziom i podążyliśmy za grupą chińskich turystów, którzy zachowywali się trochę jak stado owiec, które uciekło z zagrody na zboczu wysokiej góry i znalazło łąkę z bardzo zieloną trawą.
Zielona trawa, owszem była.
Cóż, pomyśleliśmy, że zobaczymy, co robią i poszliśmy za nimi do jednego z miejsc z pokazami seksu na żywo.
Wszyscy siedzieli jak w kinie. Podano drinki.
Pojedyncza butelka jakiejś wazeliny stała samotnie z przodu pustej sceny.
Chińczycy poprosili o drugą rundę whisky. Powoli zaczęli się rumienić i pocić. Stresowałam się trochę, patrząc na nich i miałam tylko nadzieję, że drzwi są otwarte i to wszystko nie przemieni się w jakąś paskudną orgię czy coś w tym stylu.
Chwilę później na scenę wyszła bardzo przystojna naga para. Bardzo gotowa do odegrania swoich ról. Grupie Chińczyków opadły szczęki. Niecałą minutę później wszyscy powoli zaczęli się ślinić.
Czuliśmy się teraz raczej niepewnie.
W rzeczywistości odsunęliśmy się nawet nieco od grupy napalonych Azjatów i postanowiliśmy cieszyć się pokazem, trzymając się za ręce w pełnej gotowości do ewentualnej ucieczki, gdyby tylko coś paskudnego zaczęło się wywijać.
Para na scenie uprawiała seks, którego nikt nigdy by nie chciał, zero uczucia i nic w sumie nadzwyczajnego. W rzeczywistości trwało to tak długo, że biedacy musieli używać tego smaru z buteleczki przez cały czas. Myślę, że byli daleko od początku dnia pracy i jeszcze nie zbliżali się do jej końca.
Ale było to dla nas coś nowego, więc zdecydowaliśmy, że jest w porządku, zwłaszcza, że orgia na koniec nie wybuchła, mimo że nasi "sąsiedzi" byli bliscy przekształcenia się w jakieś paskudne bestie między rzędami krzeseł.
Zamiast czekać aż coś w podobie się wydarzy, wyszliśmy i zawinęli do pobliskiego sex shopu, gdzie przejrzeliśmy dokładnie jego wyposażenie, aż w końcu znaleźliśmy sobie duży fioletowy vibrator, który muszę powiedzieć, dobrze nam służył później w nocy, ale… rano już nie wystartował, nawet z nowymi bateriami… Nie mieliśmy więc innego wyjścia, jak tylko wrócić i go wymienić.
Facet w sklepie obejrzał go pod każdym kątem, jakby próbował znaleźć przyczyny jego "choroby". Ale nic nie można było znaleźć. Więc powiedział: "Dobrze, weźcie inny".
Kilka chwil później, zadowoleni z nowej zabawki, przeszliśmy przez ulicę do coffee shop-u, zanim udaliśmy się na kolejną przygodę.
Amsterdam zawsze był znany ze swojej wielokulturowości, a także z luźnego podejścia do spraw, takich jak np. seks i miękkie narkotyki.
Jaques Brel, belgijski piosenkarz, napisał tę wspaniałą piosenkę, później przetłumaczoną przez wielu, w tym Davida Bowiego i Wojtka Młynarskiego: Dans le port d'Amsterdam (Port w Amsterdamie), w której podejmuje się również tematu prostytucji w starym porcie, chociaż polska wersja jest raczej lekka.
Jest port, wielki jak świat, co się zwie Amsterdam Marynarze od lat pieśni swe nucą tam Jest jak świat wielki port, marynarze w nim śpią Jak daleki śpi fiord nim szum fal zbudzi go Jest port wielki jak świat, marynarze w nim mrą,
Umierają co świt, pijąc piwo i klnąc.
Jest port wielki jak świat, co się zwie Amsterdam,
Marynarze od lat nowi rodzą się tam.
Marynarze od lat złażą tam ze swych łajb,
Obrus wielki jak świat czeka ich w każdej z knajp.
Obnażają swe kły skłonne wgryźć się w tę noc,
W białe podbrzusza ryb, w spasły księżyc i w los. Do łapczywych ich łap wszystko wpada na żer,
Tłuszcz skapuje kap, kap, z rybich wątrób i serc.
Potem pijani w sztok w mrok odchodzą spod wiech,
A z bebechów ich w krąg płynie czkawka i śmiech.
Jest port wielki jak świat, co się zwie Amsterdam,
Marynarze od lat tańce swe tańczą tam.
Lubią to bez dwóch zdań, lubią to bez zdań dwóch,
Gdy o brzuchy swych pań ocierają swój brzuch. Potem buch kogoś w łeb, aż na dwoje mu pękł,
Bo wybrzydzał się kiep na harmonii mdły jęk.
Akordeon też już wydał ostatni dech,
I znów obrus i tłuszcz, i znów czkawka i śmiech.
Jest port wielki jak świat, co się zwie Amsterdam,
Marynarze od lat zdrowie pań piją tam.
Pań tych zdrowie co noc piją w grudzień, czy w maj,
Które za złota trzos otwierają im raj. A gin, wódka i grog, a grog, wódka i gin
Rozpalają im wzrok, skrzydeł przydają im.
Żeby na skrzydłach tych mogli wzlecieć, hen, tam,
Skąd się smarka na świat i na port Amsterdam.
Na port Amsterdam
Na port Amsterdam.
Autorzy piosenki: Jacques Roman Brel / Mort Shuman, Polska wersja Wojciech Młynarski
Dans le port d'Amsterdam
Y a des marins qui chantent
Les rêves qui les hantent
Au large d'Amsterdam
Dans le port d'Amsterdam
Y a des marins qui dorment
Comme des oriflammes
Le long des berges mornes
Dans le port d'Amsterdam
Y a des marins qui meurent
Pleins de bière et de drames
Aux premières lueurs
Mais dans le port d'Amsterdam
Y a des marins qui naissent
Dans la chaleur épaisse
Des langueurs océanes
Dans le port d'Amsterdam
Y a des marins qui mangent
Sur des nappes trop blanches
Des poissons ruisselants
Ils vous montrent des dents
À croquer la fortune
À décroisser la lune
À bouffer des haubans
Et ça sent la morue
Jusque dans le cœur des frites
Que leurs grosses mains invitent
À revenir en plus
Puis se lèvent en riant
Dans un bruit de tempête
Referment leur braguette
Et sortent en rotant
Dans le port d'Amsterdam
Y a des marins qui dansent
En se frottant la panse
Sur la panse des femmes
Et ils tournent et ils dansent
Comme des soleils crachés
Dans le son déchiré
D'un accordéon rance
Ils se tordent le cou
Pour mieux s'entendre rire
Jusqu'à ce que tout à coup
L'accordéon expire
Alors le geste grave
Alors le regard fier
Ils ramènent leur batave
Jusqu'en pleine lumière
Dans le port d'Amsterdam
Y a des marins qui boivent
Et qui boivent et reboivent
Et qui reboivent encore
Ils boivent à la santé
Des putains d'Amsterdam
De Hambourg ou d'ailleurs
Enfin ils boivent aux dames
Qui leur donnent leur joli corps
Qui leur donnent leur vertu
Pour une pièce en or
Et quand ils ont bien bu
Se plantent le nez au ciel
Se mouchent dans les étoiles
Et ils pissent comme je pleure
Sur les femmes infidèles
Dans le port d'Amsterdam Dans le port d'Amsterdam

Muszę przyznać, że podejście do seksu zaadaptowane przez Holendrów nie jest takim zwyczajnym rozwiązaniem wyjętym z kapelusza. To, co zrobili, było w rzeczywistości niezwykle sprytne. Nie tylko zalegalizowali wiekowy biznes, który z pewnością w najbliższym czasie nie zniknie z tej planety, ale opodatkowali go i uregulowali, a jednocześnie zapewnili lepsze i bezpieczniejsze środowisko pracy dla osób prowadzących tego typu działalność gospodarczą. Tym samym zminimalizowali również potencjalnie ryzyko, zarówno dla dostawców, jak i odbiorców usług.
W 2020 roku, podczas kwarantanny COVID19, holenderskie prostytutki miały bardzo trudne sześć miesięcy bez seksu. Holenderska policja bardzo rygorystycznie podeszła do tego właśnie sektora rynku, a hotele i inni dostawcy zakwaterowania musieli zgłaszać wszelkich podejrzanych i powtarzających się gości.
Tutaj przeczytacie o szczęśliwym powrocie prostytutek do pracy. Teraz już mają wszystkie niezbędne naklejki na ścianach i częściej myją ręce.
Następnego dnia wymyśliliśmy, że wybierzemy się na wycieczkę łodzią. Ale najpierw musieliśmy przenieść się do innego hotelu. Pierwszy z nich znajdował się w Dzielnicy Czerwonych Latarni na pięknym Oudezijds Voorburgwal. Drugi znajdował się w pobliżu, w kierunku okolicy Jordaan, między Herengracht i Keizersgracht.
Typowa obskurna dziura. Zobaczyliśmy nasz pokój z trwale poplamionym dywanem i pościelą i poprosiliśmy o pokazanie jakiejś alternatywy, ale że ta była w jeszcze gorszym stanie, rozpakowaliśmy się i poszliśmy szukać łodzi.
Większość łodzi turystycznych ze szklanymi panelami odpływa albo z Damrak, tuż przy Rynku Głównym – De Dam, albo z obszaru Centraal Station. Ta część A'dam-u zmieniła się w ciągu ostatnich kilku lat, dlatego warto sprawdzić najbardziej aktualne przewodniki poszukując atrakcji ruchomych.
Przejażdżka łodzią w Amsterdamie jest koniecznością. Bez względu na to, czy naprawdę tego chcesz, czy nie i czy robiłeś to wcześniej, czy nie. To tak, jakby być tam i nie wpatrywać się w te szalone rowery przymocowane dosłownie do wszystkiego i wszędzie. Umożliwia wgląd do zupełnie innego świata. Pozwala zobaczyć, skądinąd nie tak łatwe do ogarnięcia z poziomu ulicy, wysokie domy kupieckie i ich wspaniałą architekturę. Widzicie życie z wody. Mosty i to co kryje się pod nimi, drogowskazy kanałowe, obserwujecie ludzi w ich łodziach, słuchacie trąbek, którymi komunikują z innymi pływającymi, itp. Nic nie wygląda tak samo.
Nasza łódź zabrała nas oczywiście do najsłynniejszych miejsc i była dobrze wyposażona w opowieści o mijanych atrakcjach, w języku angielskim. Wiedzieliśmy już wszystko, o czym mówili, więc skupiliśmy się na uczuciu błogości, a także na podziwianiu tego co nas otaczało.
"Małe" to słowo, które często usłyszycie podczas wędrówek po kanałach. I chociaż łodzie zwykle zabierają Was tylko do tych najbardziej znanych, w Amsterdamie jest kilka najmniejszych rzeczy, które powinniście chcieć zobaczyć. Po prostu wędrujcie i obserwujcie. Doświadczenie życia!
Najwęższą ulicą w Amsterdamie jest Trompettersteeg. Ma tylko 100 centymetrów szerokości. Pomimo niewielkich rozmiarów jest to jedna z najbardziej ruchliwych uliczek w Amsterdamie dzięki położeniu w centrum Dzielnicy Czerwonych Latarni.
Najwęższa fasada na świecie: Singel 7
Dom ten jest znany jako najwęższy dom na świecie, ale w rzeczywistości jest to najwęższa fasada. Tylna fasada (czyli to co my byśmy nazwali frontem) ma jeden metr szerokości, a więc jest niewiele szersza od drzwi wejściowych. Przód domu (czyli to co u nas byłoby od środka) jest znacznie szerszy.
Najwęższy dom w Europie: Oude Hoogstraat 22
Najwęższy dom w Europie jest maleńkim budynkiem z typową amsterdamską fasadą zegarową, która ma tylko 2,02 metra szerokości. Sam dom ma pięć metrów głębokości.
Najszerszy dom w Amsterdamie: Kloveniersburgwal 29 – The Trippenhuis
Z ponad 22 metrami, Trippenhuis jest najszerszym domem w Amsterdamie. Został zbudowany w 1660 roku dla bardzo bogatych braci Lodewijka i Hendricka Tripów. Bracia zbili fortunę na handlu żelazem, miedzią, bronią i amunicją.
Woźnica pana Tripa ponoć kiedyś westchnął: "Ach, ja to byłbym zadowolony z domu tak szerokiego, jak drzwi wejściowe mojego pana". Pan Trip usłyszał to i upewnił się, że życzenie jego woźnicy się spełniło. Budynek ma piękną fasadę ramową, o szerokości 2,44 metra. Ten dom jest znany jako Kleine Trippenhuis lub Dom woźnicy pana Tripa. Znajduje się pod nr 26, naprzeciwko Trippenhuis pod nr 29.
Het Smalste Huis, najmniejszy dom – jest tym, co stało się popularne w średniowiecznym Amsterdamie ze względu na wysokie podatki od nieruchomości, które były naliczane na podstawie szerokości fasady. W związku z tym sprytni kupcy budowali fronty o niewielkiej szerokości, mieszcząc w nich niespełna drzwi i pozwalali wyobraźni zaszaleć za zamkniętymi drzwiami, gdzie domy mogły rosnąć na wysokość i szerokość zgodnie z życzeniami właściciela i bez dalszych ograniczeń.
Jest to również powodem, dla którego domy holenderskie były generalnie tak wysokie. Wyglądało to tak, że na parterze znajdował się zwykle sklep, jeden poziom niżej był przeznaczony dla kuchni i personelu. Środkowe piętra funkcjonowały jako pomieszczenia mieszkalne, przy czym pierwsze piętro jako swoista przestrzeń mieszkalno-reprezentacyjna, przeznaczona do organizacji przyjęć, wizyt, spotkań biznesowych, itp. Najwyższe piętra były używane jako magazyny dla wielu towarów, sprzedawanych na poziomie ulicy.
Dlatego oczywiście widzicie haki przymocowane do górnej części fasad zwanych frontonami. Dźwigi te były używane do podciągania mebli i wszelkiego rodzaju towarów na wyższe poziomy, ponieważ super wąskie i strome schody nie zapewniały takich możliwości.
Zobaczcie tę wspaniałą konstrukcję oryginalnej XVII-wiecznej, nienaruszonej maszynerii dźwigowej (koło podnoszące), z wnętrza pięknie odnowionego domu moich marzeń przy Keizergracht.
Zauważcie również, jak sprytni Holendrzy zaprojektowali swoje miasta już wieki temu. 30 lat brodzenia w błocie wokół pojawiających się kanałów nie mogło zostać zmarnowane. Podczas procesu urbanizacji czyli projektowania ulic zadbali o to, aby między budynkiem a kanałem zapewnić wystarczającą przestrzeń by pomieścić szerokie chodniki, szerokie drogi i zieloną strefę. Zapewniło to miejsce dla handlu, a także łatwe dostawy oraz załadunek i rozładunek łodzi na kanałach. I działa do dziś! Myślę, że XVII-wieczni architekci Amsterdamu chwyciliby się nie raz za głowę widząc postępującą architekturę łanową i zubożenie urbanistyczne dzisiejszego świata.
Po dotarciu do Amstel zauważycie niezliczone łodziodomy tudzież mieszkalne łodzie i barki. Wszystkie możliwe kształty i kolory, jeden bardziej interesujący od drugiego. Obecnie wiele z nich jest przeznaczonych na hostele i pensjonaty. Zawsze się też znajdzie tam jeden lub dwa na sprzedaż. Zajrzyjcie tutaj i zauważcie, jak nowe osiedla mieszkaniowe są obecnie projektowane tak, aby zadokować małe subosiedle łodzi mieszkalnych, takich jak ta w Haringbuisdijk. Super, prawda?
Rzeka Amstel to ta, od której wszystko się zaczęło. Amstel Dam – zapora na rzece Amstel, doprowadziła do powstania obecnej nazwy Amsterdam-u.
Domy – łodzie zawsze były częścią holenderskiego krajobrazu i nigdzie się nie wybierają. O ile w przeszłości zwyczajne barki i łodzie po tysiącach przeróbek służyły typom bardziej artystycznym, obecnie można podziwiać wielorodzinne domy i prawdziwe dzieła sztuki unoszące się tu na wodzie.
Mówimy o projektach, takich jak pływające miasto Blue 21 floating city na przykład, z jego cyrkulacyjnym podejściem do życia. Uwielbiam to. Zobaczcie katalog super fajnych projektów luksusowych pływających domów na miarę XXI wieku, a także projekt Blue 21. Po prostu przewijajcie w dół. Niektóre z nich można już znaleźć na rzece Amstel.
Gdy wypłyniecie na IJ, po lewej pojawi się Centraal Station czyli Dworzec Główny, który jest prawdziwym arcydziełem architektury sięgającym XIX wieku. Front został zaprojektowany przez holenderskich architektów Cuypersa i van Grendta, a jego piękno jest chwalone na całym świecie do dziś.
Wewnątrz złapiecie pociąg, bądź to lokalnie lub do Paryża, Brukseli, Berlina, Kopenhagi, Warszawy, Pragi, Mińska lub Moskwy. A z tyłu – autobus… lub łódź, ponieważ ta część otwiera się na nabrzeże rzeki IJ, gdzie łodzie mogą cumować. Metro Dzięki Bogu jest dostępne z oddzielnej stacji, ale tylko na zewnątrz budynku. Tutaj można również udać się do tramwaju, a także autobusów miejskich.
Na IJ znajdziecie również Nemo 🙂 Ten Nemo jednak był tutaj na długo przed tym, jak tamten Nemo zaginął. Jest to gigantyczna konstrukcja przypominająca statek, a jej funkcją jest wprowadzanie nauki w codzienne życie odwiedzających – czyli Muzeum Nauki. A po tym jak sobie poczytacie trochę więcej na ten temat, przyjrzymy się replice statku Amsterdam z 1748 roku, tylko rzut kamieniem od Nemo.
Ten statek należący do Holenderskiej Kompanii Indii Zachodnich (Vereenigde Oost-Indische Compagnie – VOC) rozpoczął swoje życie na fryzyjskiej wyspie Texel, aby zaledwie 18 dni później zatonąć podczas sztormu na kanale La Manche. Nieco ponad 200 lat później jego wrak został odkryty w okolicach Hastings w Wielkiej Brytanii i nadal można go tam zobaczyć podczas odpływu. Lokalne muzeum udostępnia informacje na jego temat i jest on uznany i chroniony przez Dziedzictwo Wielkiej Brytanii.
W drodze powrotnej do hotelu oczywiście udaliśmy się do sklepu Maoz na Muntplein (pierwszy Maoz w historii), aby napchać się najbardziej niesamowitymi falafelami jakie znam. Maozy są wszędzie w A'damie.
Dostajecie około 6 lub 7 kulek falafela do swojej pity, a następnie wszystko, co musicie zrobić, to doładować je sałatkami z mini baru i najlepszym czosnkowym sosem na świecie. Usiądźcie teraz, trzeba jeść. Ale tylko do połowy. Znów wracacie wtedy do baru i uzupełniacie pitę czym tam chcecie, i dopiero potem możecie szykować się do opuszczenia sklepu. Normalnie się ślinię pisząc o tym….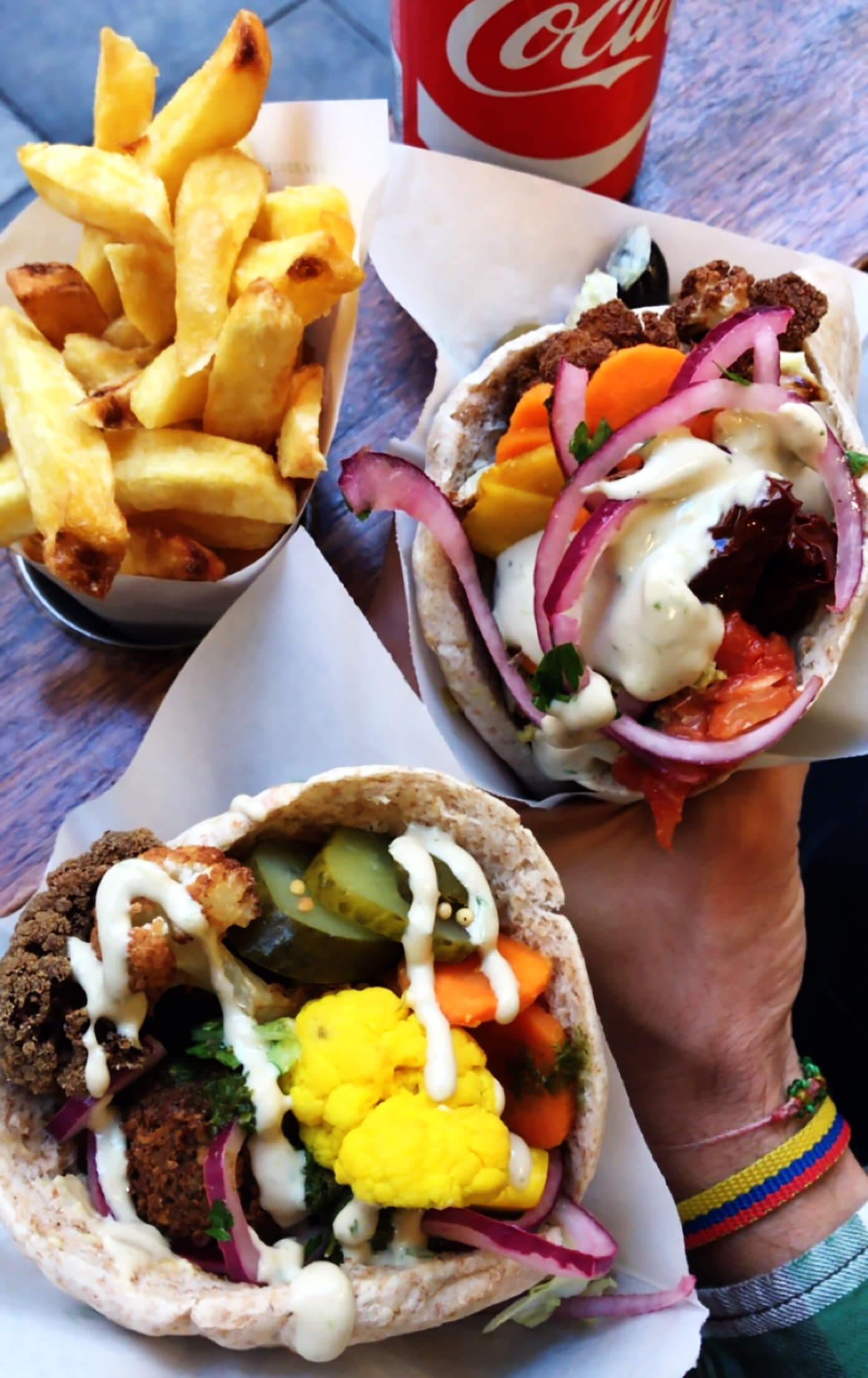 Nasz lot był wcześnie rano. Dotarcie pociągiem do Schiphol zajmuje tylko 15 minut, ale ponieważ wszędzie trzeba dodać trochę czasu na załatwienia i takie tam, woleliśmy uderzyć w kimono raczej wcześniej niż później.
Na szczęście wieczorem wzięliśmy prysznic, ponieważ poranek przywitał nas awarią wody w całym hotelu. Mają fuksa, że zapłaciliśmy z góry za to zakwaterowanie, ponieważ nie sądzę, żebym im inaczej dała złamanego grosza.
Nie mając możliwości spłukiwania, zostawiliśmy za sobą nie tylko to miejsce.
Ale o ile okropne londyńskie hotele sprawiły, że przez wiele lat chciałam zapomnieć o tym mieście, nic nie może mnie zniechęcić do Amsterdamu. To jest moje ukochane miasto i tyle.
Te horen!
Anka
Make a one-time donation
Make a monthly donation
Make a yearly donation
Choose an amount
Or enter a custom amount
$
---
Your contribution is appreciated.
Your contribution is appreciated.
Your contribution is appreciated.
Donate
Donate monthly
Donate yearly