As always, if you prefer to listen to this blog post, click here: Porto Santo
Life has more imagination than we carry in our dreams. – Christopher Columbus
It is easy to remember that this mini island of Porto Santo, belonging to the Madeira Archipelago, is 43 km up north from Madeira and is almost 43 km² in size. Surrounded by a few tiny uninhabited rock-islands. There are some 5.5 thousand citizens there.
A tiny airport in the middle of the isle could get you here if you had a private jet, but if not, then you will most likely, like me, be forced to take a ferry directly from Funchal. To give you an idea what it cost back in 2008, see a copy of my ticket below:
The ferry leaves Madeira's port of Funchal quite early. It takes about 1.5 hours to get to Porto Santo. Some people holiday on this tiny island and I can totally recommend it if you are one of those that are capable of spending 12 hours a day on the beach for the entire week. But if you are not, then one day, two tops, will be just about enough. Especially that incredible Madeira is so so fabulous and in my opinion you can never get fed up with it.
Waking up early and spending first hours of the morning in Funchal port is truly magical.
Following the light of the sun, we left the old world. – Christopher Columbus
So we boarded. Slowly, we left Funchal and headed along the east coast of Madeira, passing Machico and Ponta de São Lourenço on our left and Ilhas Desertas (Deserted Islands), in fact inhabited by spiders only, on our right in the distance and heading onto an open ocean. The water swooshed behind us. It was very hot. The climate here is sub-tropical hence temperatures hardly ever get below 23 °C. In the summertime 30 plus is guaranteed for at least a few months straight. Not in Madeira though where you can expect rain anytime.
Funchal, capital city of Madeira, remains a regular port of call for cruise liners that are crisscrossing the Atlantic Ocean. In the past Winston Churchill used to visit here and cure his "black dog" of depression painting the landscapes of Câmara de Lobos. Austrian Emperor Karl I and Empress Sissi visited often and it is to this day that their descendents pop over here pretty frequently. The Green Pearl of the Atlantic that Madeira is, also attracted George Bernard Shaw with its fascinating views, food, people and flowers.
Whilst the interest was always big, hence demand high for visiting the island, the island's inaccessibility posed a problem. Madeira wished to open up not only for tourism but also for trade with the mainland Portugal and at the same time, with the rest of the world. In 1964, an airport has therefore been built, just on the outskirts of Funchal on the east coast of the island.
It was not an easy task though. Not many of you may know that Madeira is made of mountains and tunnels that run through the mountains. Given that, finding a long, straight and flat area, sufficient to fit the runway was virtually impossible. A little piece of land neighboring the mountain has been found however, just outside beutiful village of Machico, not ideal but could be worked with. The terrain was cleared and two, 1600 metre long each, runways were built.
This was not safe and insufficient for the growing aircraft and therefore one of the runways, which was closer to the mountain, was permanently closed and the other one extended to 1800 metres in 1986.
The same pattern occured – not good enough for yet growing planes and trourism. As such, another kilometer was added to the existing one to make 2781 metres of a runway that is partially on the land but mainly on the concrete poles fit into the Atlantic Ocean. Every single one out of 180 columns is around 70 meters in height and this is why it is best seen when driven underneath, which you do on the way from Funchal to either airport or to Machico. A truly fascinating experience; imagine you first drive through a few kilometres long tunnels only to end up on a super high bridge that then takes you under the airport runway platform where you drive between the mentioned concrete columns and you come out of it to end up inside another tunnel with a few lanes and roundabouts to navigate through.
The above mentioned extension opened in 2002 and was recognised worldwide. Two years later it was awarded the Outstanding Structure Award from the International Association for Bridge and Structural Engineering.
Today Funchal airport handles 3 million customers per year.
Ferry ride gives a brilliant opportunity to enjoy incredible views on Madeira Airport, which as you can see, is very unique and pilots must pass special training to be able to land and take off here. This is one of the reasons why Funchal is a more expensive destination in comparison with the neighboring Canary Islands. Majority of airlines simply do not operate here on schedule. You therefore are left with either charter flights or connecting flights as the port is used mainly by Portuguese airlines. Also, due to lack of typical to Canary Islands type of sandy beaches and a risk of drizzle, people prefer the former which, at the same time, are a cheaper option.
And do you know whose name does the airport in Funchal bear? Yes, the incredibly talented and hard working, Funchal born Cristiano Ronaldo of course. The below was the original, rather unfortunate depiction of the famous footballer.
Thankfully his mother opposed to it and the sculpture has been replaced with a more handsome and accurate himself. Can be seen in the Airport Terminal.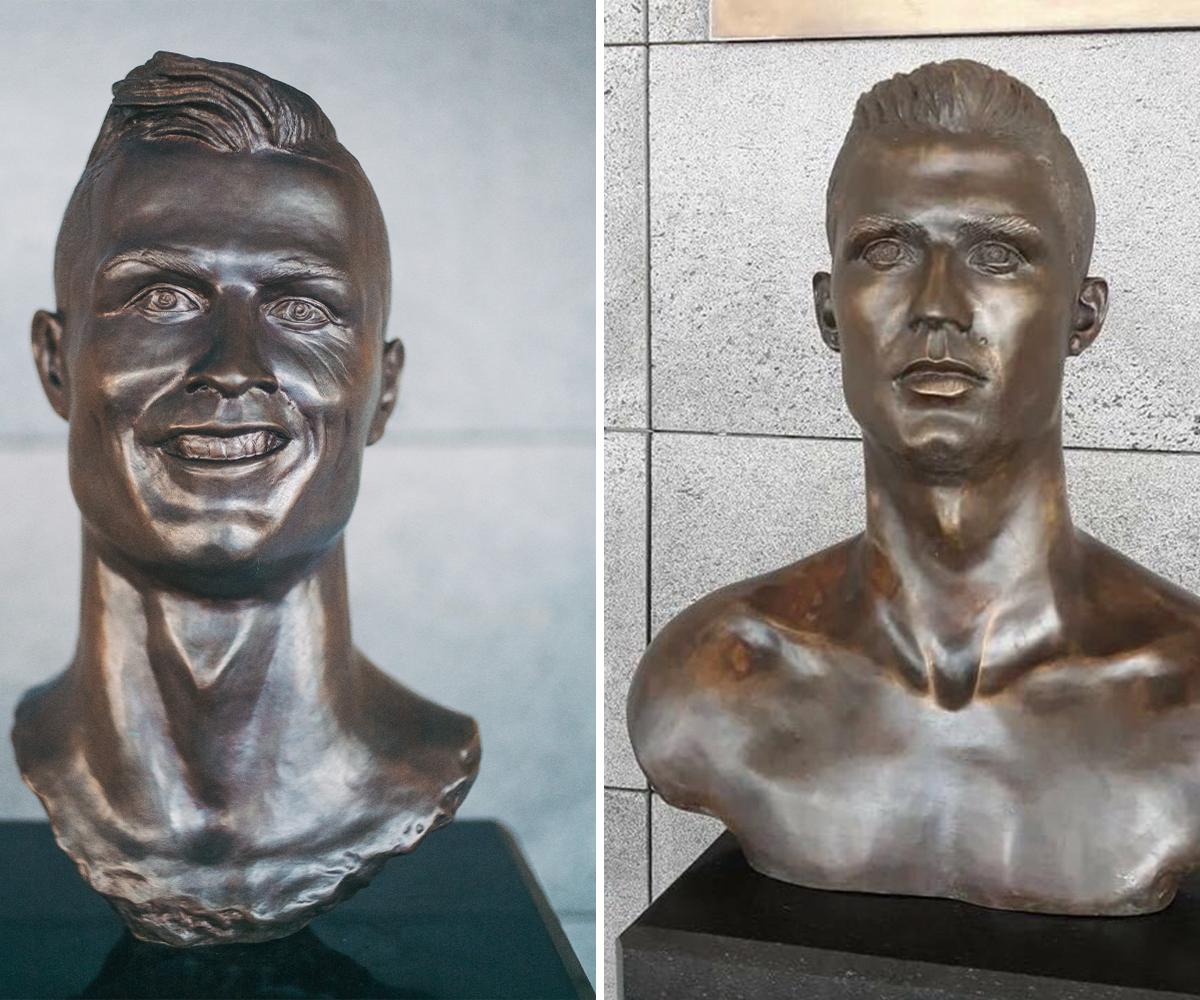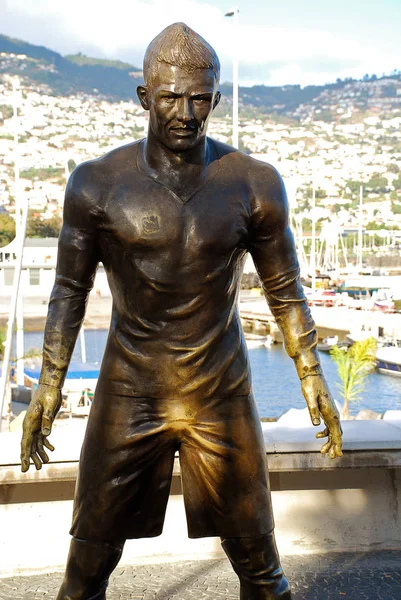 Speaking of Ronaldo, there's one more monument of him in the Funchal port and it apparently brings luck when you rub his you know what 🙂 I wonder what Mama says to that 🙂
R.E.M. stands for R-onaldo E-ros of M-adeira. But he's out of time
Porto Santo however means 9 miles of a gold sandy beach – Praia Dourada. It runs along island's entire south coast and therefore this is where everyone coming to Madeira goes for the sunny part of their stay. The people of Madeira travel there too quite regularily. I am assuming they have lower deal on the ferry travels but I have not checked. Madeira's three beaches are small and black.
When you near Porto Santo, the first view that opens in front of your eyes are steep cliffs of the neighboring islands. It does not suggest any of what hides just behind them. And when what is hiding behind them appears in front of you, you can be sure your jaw drops and you drool without realizing it.
So the engines stopped. The boat positioned itself by the pier. Everyone looked left and….
….literally ran off the ferry. We went to find the nearest car rental place and got a tiny stinker for an entire day for an equivalent of what we paid to rent a jeep for a week in Madeira, but sure, needed to be done!
There are not many roads in Porto Santo and therefore we drove them all! And yet had a good few hours left for enjoying the beach!
There's no need to talk much here, so let me take you on the photo tour around this tiny gem on the Atlantic. Calheta – Ponta (Ponta da Calheta) ont he opposite side of the beach with the fabulous views on Ilheu de Baixo and the coastline.
Next up, Ponta da Canaveira on the northern side witht the view on Ilheu de Ferro:
As you noticed, my ferry ticket dates back to 2008. I am happy to see some very positive changes in Porto Santo. When we were there, there were far less places to stay in as well as places to eat, in comparison to what I am seeing now when browsing places. Some major monuments, such as the Moinhos de Vento (The Windmills) used to be neglected and abandoned whereas now they seem to be a true tourist attraction. It makes my heart hop with joy 🙂 See below, 2008 vs 2021 (the concrete structures that can be seen on my photo are also gone – ufff!). That's Miraduro de Portela.
In the end, just before going for a splash, we visit Vila Baleira. A very pretty and well kept town, proud for its most famous tourist attraction on the island – Casa de Cristóvão Colombo – Christopher Columbus House – Museu do Porto Santo, located in the house where the traveler once lived. The museum is not only a documentation of the presence of the discoverer in the Madeira archipelago, but also indicates the strategic importance of the island in the times of Portuguese maritime expansion.
In mid-September, the Festival Colombo takes place on an island. Christopher Columbus lived in Porto Santo for several years with Philipa Moniz, whom he married in Lisbon, a daughter of the captain of Porto Santo, and it was here where his son, Diego was born. He worked here as a sugar merchant.
The boat you see in the below video is called Santa Maria de Colombo and if you are brave enough to get on board with the real sailors, you can. They will show you dolphins if you are good Boys and Girls and in the end treat you with a sip of Madeira wine and cake. This is for another blog post though, I'm afraid 🙂
As for the Festival itself, well, as festivals do, this one will bring you back to the world of the end of the XVth century Madeira archipelago. You will be entertained in the local way, with the local food and music. You will see the life of the locals as it was when Columbus walked on along the Praia Dourada.
Many shows and parades entertain the spactators. Among them the arrival of the Culumbus. Games, plays, stalls, circus, theather and exhibitions. All that on this tiny little piece of land somewhere in the Atlantic.
However
It is easy to discover what another has discovered before. – Christopher Columbus
and therefore it is now time for YOU! to go there and find for yourself the things yet undiscovered.
And to help you find your way, here's the map that Columbus allegedly used during his many travels. Guard it with your life!
Ahoj there!
Anka
Make a one-time donation
Make a monthly donation
Make a yearly donation
Choose an amount
Or enter a custom amount
€
---
Your contribution is appreciated.
Your contribution is appreciated.
Your contribution is appreciated.
Donate
Donate monthly
Donate yearly